Israel: Forced Deportation of Migrants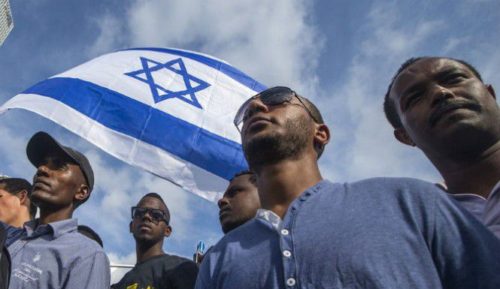 This is the same Israeli government that facilitates the non-White invasion of Europe.
THE HOTLINE for Refugees and Migrants and a group of other NGOs filed a petition with Israel's High Court of Justice today asking it to firmly strike down the government's policy of indefinitely imprisoning African asylum seekers unless they agree to accept so-called "self-deportation" to an unnamed African country that is not their homeland, the Jerusalem Post reported. Many of the African asylum seekers in question have — often unjustly — been denied refugee status by the government even though they almost always meet international refugee standards under international accords Israel has signed.
The Beersheba District Court rejected the same appeal from the NGOs earlier this month. The NGOs claim that the district court ignored evidence of mistreatment of African asylum seekers who "self-deported" to the unnamed African country under intense pressure from the Israeli government. The NGOs also say the district court made a significant amount of other procedural and legal errors, as well.
In August, the High Court struck down the government's 20 month detention period for all African asylum seekers it chose to detain as unconstitutional because it was disproportionately long, but in its ruling it noted that a shorter detention period could be legal. The clear implication was that the government could use harassment and detention of African asylum seekers already in Israel as a tool to deter others from illegally entering Israel.
Then in early November, Beersheba District Court Judge Rachel Barkai read that ruling to be permission for the government to force African asylum seekers to "self-deport" by imprisoning those who refuse to do so, and she upheld the government's policy of doing so and accepted the government's new position on imprisonment and deportation — that 20 months of detention was only too long for African asylum seekers whose refugee status had yet to be determined. But those asylum seekers whose applications for refugee status had been rejected — even if those rejections were blatantly biased — could be imprisoned indefinitely.
The Israeli government now reportedly takes the position that nearly all of the 33,000 Eritrean asylum seekers in Israel are not refugees, despite the fact that Eritrea is the most draconian and dangerous dictatorship in the entire world after North Korea for its citizens.
A total of about 45,000 African asylum seekers remain in Israel. Those who are not Eritrean are overwhelmingly from southern Sudan and the Darfur region. They are also regularly mistreated by the Government of Israel.
Many right-wing, haredi and Zionist Orthodox politicians have attacked the African asylum seekers, calling them "rapists," "thieves," and a "cancer" that will destroy the supposed ethnic-religious purity of Israel and the Jewishness of the state.
 * * *