'I Stand With Israel' License Plate Proposed For Ohio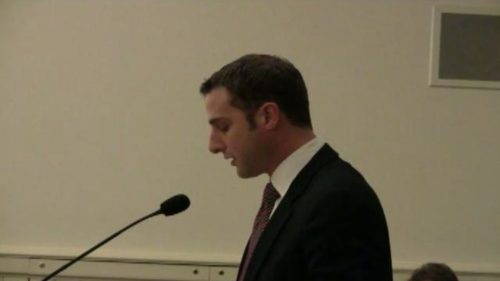 Fees would fund an Israeli charity; South Carolina already has similar plates.
OHIO DRIVERS may soon be able to show their support for the state of Israel if a proposed bill is approved by the state legislature. (ILLUSTRATION: Jewish Ohio Rep. Stephen Slesnick)
Under House Bill 397, the owner or lessee of any car, noncommercial motor vehicle or recreational vehicle may apply to the registrar for the issuance of an "I Stand with Israel" license plate.
The plates would cost an additional $30 to purchase. Ten dollars will be given to the state treasury to help pay for the plates, and the remaining $20 would be donated to United Hatzalah of Israel, the largest nonprofit, fully volunteer emergency medical service organization in Israel that provides free emergency medical first response services throughout the country.
According to the bill, the license plates would be inscribed with identifying words or markings that are designed by the Friends of United Hatzalah of Israel, an organization that supports the efforts of United Hatzalah, and approved by the deputy registrar.
The bill was introduced to the Ohio House of Representatives on Nov. 16. The primary sponsor of the bill is Ohio Rep. Andy Thompson, R-Marietta, who represents the 95th district, which includes Carroll, Harrison and Noble counties as well as portions of Washington and Belmont counties.
There are 18 co-sponsors of the bill, including Ohio Rep. Stephen Slesnick, D-Canton.
"I support this bill because it's a pro-Israel bill, and my job as a Jewish legislator is not only to represent my constituents but also to represent every single Jew in Ohio," said Slesnick, who represents Massillon and parts of Bethlehem, Osnaburg, Perry, Pike, Plain and Tuscarawas Townships in Stark County. "I just want to make sure that I do what's best for supporting Israel."
Chris Berry, spokesman for Ohio State Treasurer Josh Mandel, said he and Mandel support the initiative.
"We support Representative Thompson's idea and believe that his head and heart are in the right place. The state of Israel and the Jewish community should be thankful for stalwart friends like Representative Thompson," Berry said.
Slesnick said he isn't sure what the proposed license plates would look like or when the House may vote on the proposed bill.
Abbas Hamideh, co-founder of Al-Awda, The Palestinian Right to Return Coalition, called the bill "disheartening."
"If someone wants to support something, they have every right to support it, so I wouldn't be against someone freely supporting anything they want. But as a Palestinian, I would be opposed to the idea myself," Hamideh said.
South Carolina is the only other state that has a similar license plate, Slesnick said.
On June 2, 2014, South Carolina Gov. Nikki Haley signed into law an act that would allow the South Carolina Department of Motor Vehicles to issue car owners special license plates that read "South Carolina Stands With Israel."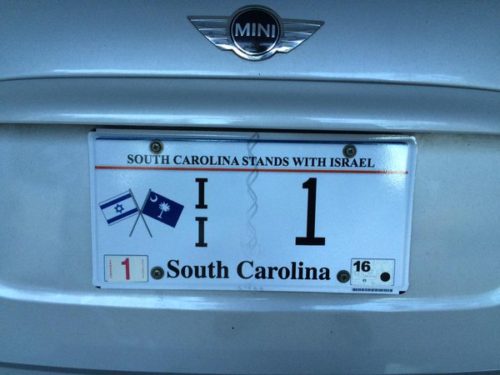 The plates display intertwined flags of Israel and South Carolina. A portion of the fees collected from the sale of the plates are distributed to Chabad of Charleston and used to support charities that show support for Israel, according to the South Carolina DMV.
As of Dec. 1, 2015, 66 "South Carolina Stands With Israel" license plates have been sold in South Carolina, according to Jean Smolen of the strategic communications and community affairs department at the South Carolina DMV.
* * *
Source: Cleveland Jewish News