Hillary Clinton: Educate Youth About Israel-US "Bond"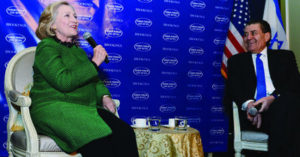 YOUNG PEOPLE in the United States and Israel need to be educated about the value of the relationship between the two countries, Hillary Rodham Clinton said. (ILLUSTRATION: Hillary Clinton with Haim Saban at the Saban Forum)
"With every passing year we must tie the bonds tighter, reach out to the next generation," the front-runner for the Democratic Party presidential nomination said Sunday to the Saban Forum in Washington, an annual conference of American and Israeli leaders.
Clinton, born just before Israel's independence in 1948, said she belonged to a generation that thrilled to Israel's successes, but that the admiration was receding.
"There is a generation in both countries today that does not remember that shared past," she said.
Speaking to the Brookings Institution's Saban Forum, an annual Washington gathering on relations between the US and Israel, Clinton, the front-runner for the presidential nomination of the Democratic Party, recommitted to the pursuit of a two-state solution: "A one-state solution is no solution," she told the forum, but called on Palestinian leadership and the Arab League to recognize that, under such a scheme, Israel would be a Jewish state, alongside a sovereign Palestinian state.
In a speech framed by her personal commitment to Israel, Clinton said three major threats face the state that require robust American defense and diplomatic support: Metastasizing extremism throughout the Muslim world; an aggressive government in Iran; and an effort to delegitimize Israel in international bodies.
She also had harsh words for the boycott, divestment and sanctions movement against Israel, which she said was not only counter-productive, but linked to anti-Semitism.
The Saban Forum also featured speeches from Israel's Defense Minister Moshe Ya'alon and US Secretary of State John Kerry.
* * *
Source: Jerusalem Post