Capitalism's Other Losses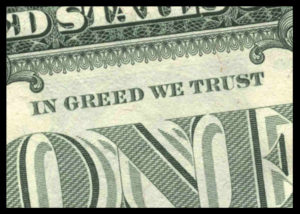 Three easy-to-understand ways that capitalism literally sucks — sucks unearned money away from the rest of us, that is.
by David Sims
AMERICANS HAVE gotten used to third-rate grocery goods. They buy supermarket coffee and drink the beverage that they make from it, even though it tastes like it was brewed from floor sweepings. For really good coffee, you have to order it from an importer who knows what he's doing or else from a trusted foreign supplier.
The same is true of tomatoes. Supermarket tomatoes are mostly the product of agribusiness, which always sacrifices taste to profitability whenever a choice must be made between the two. Supermarket tomatoes are, therefore, thick of rind, woody in the interior, and generally very poor in taste. That's why they are commonly either salted or doused in dressing.
Hobby gardeners, such as my Grandpa DuBois was in the 1950s, and such as I was myself during the 1990s, grow heirloom tomatoes chosen for flavor. If you think that a supermarket tomato is "good enough," then you've never had a real Fritsche Pink, a medium-sized pink tomato that has a tomato-candy flavor that explodes in your mouth.
The variety of knock-your-socks-off flavors that go with various heirloom tomatoes is something that you must experience in order to appreciate what you don't get at the supermarket — what your grandparents had, and what you have lost with the rise of agribusiness.
I've used groceries to illustrate a principle: Capitalism does not deliver the best, as Ayn Rand said it would do. It delivers the cheapest stuff that people will put up with, along with marketing that credits the goods with praise that it does not deserve.
How Capitalism Corrupted Medicine
The ostensible mission of the medical profession is to eradicate disease. But what business will seriously pursue a course of action that would, if successful, put it out of business? The doctors wouldn't like that. Neither would the pharmacists. Neither would the stockholders in the corporations that own the hospitals. There is a conflict between the purpose for which the medical profession exists and the financial interests of its personnel.
What usually happens is this: poor people don't get cured of their diseases. The doctors, hospitals, and pharmacists just prescribe, administer, and sell palliatives while sucking up Medicaid money. The people who actually get cures are the richer folks who can front all the money that the medical parasites will charge.
The poorer people, meanwhile, serve the industry as a reservoir and as a vector to reinfect the richer folks on a steady basis. Thus, the medical profession can pretend to be pursuing its purpose, while in reality merely managing diseases for their greater profit.
Capitalism Uses Government to Suck Money from the Public
There's a lot of talk just now in Congress and among NASA administrators about an initiative to clean up the space near Earth. Let me clue you in on something. The politicians are merely grandstanding, and the corporations are looking for yet another way to squeeze the 99% for the greater gain of the 1%.
The only way to keep space clean is not to dirty it up in the first place. Why is that?
Because the part of space most infested by cast-off human debris begins at the top of the atmosphere, at about 100 km altitude, and continues to about 600 km altitude. Within that range of distance is about 300 billion cubic kilometers, though which maybe 1000 tons of debris, in bits as small as a spoon or a glove, is flying in as many different orbits at speeds of about eight kilometers per second.
Think of the cost of the rockets needed to chase all those bits down, to make rendezvous, to match velocity, make the grab, and then go after the next little bit, which might happen to be 500 kilometers away and heading northwest at a relative speed of 3 km/sec.
It can't be done. Not for any price that any nation can pay. And so the talk about doing it is a bunch of flim-flam: noble-sounding, but with a very corrupt actual purpose: getting the Average Joe to pay more taxes so that Big Business can have another road to big profit.