What Americans Thought of Jewish Refugees on the Eve of World War II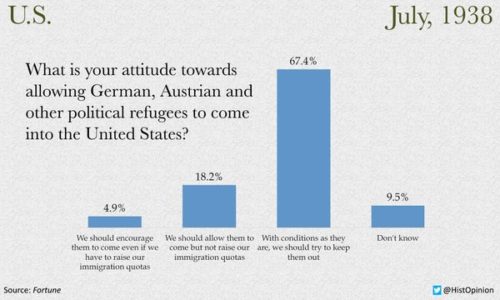 This was a saner, Whiter America.
THE RESULTS of the poll illustrated above by the useful Twitter account @HistOpinion were published in the pages of Fortune magazine in July 1938. Fewer than 5 percent of Americans surveyed at the time believed that the United States should raise its immigration quotas or encourage political refugees fleeing fascist states in Europe — the vast majority of whom were Jewish — to voyage across the Atlantic. Two-thirds of the respondents agreed with the proposition that "we should try to keep them out."
To be sure, the United States was emerging from the Great Depression, hardly a climate in which ordinary folks would welcome immigrants and economic competition. The events of Kristallnacht — a wave of anti-Jewish pogroms in areas controlled by the Nazis — had yet to take place. And the poll's use of the term "political refugees" could have conjured in the minds of the American public images of communists, anarchists and other perceived ideological threats.
But look at the next chart, also tweeted by @HistOpinion. Two-thirds of Americans polled by Gallup's American Institute of Public Opinion in January 1939 — well after the events of Kristallnacht — said they would not take in 10,000 German Jewish refugee children.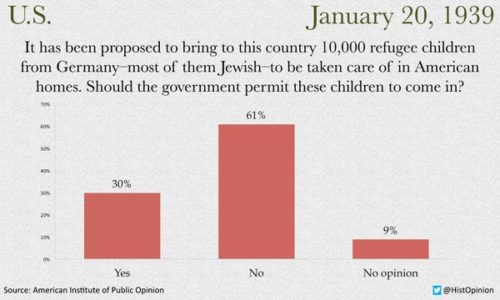 * * *
Source: read the full story at the Washington Post