Texas "Clock Kid" Ahmed Mohamed Demands $15 Million and an Apology for "Hoax Bomb" Arrest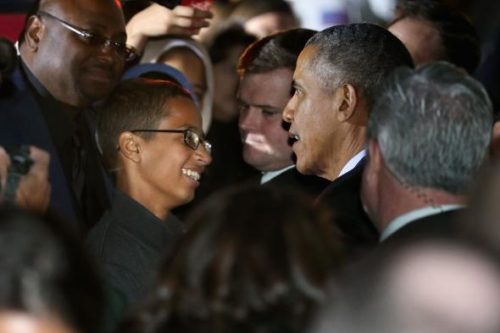 EDITOR'S NOTE: There is something bizarre, even eerie, about this hoax "clock radio invention" that "looked like a bomb." It was a ridiculous fraud that impressed only crude, "racism" obsessed, technical illiterates and bigots like Fetchit and Mark Zuckerberg on the left — and crude, technologically illiterate, security-obsessed morons on the right. It was a fraud as an "invention" and a fraud as a "bomb," however it was intended. But let's be fair. These poor Muslim hoaxers have been so beaten down by "racism" that they need that $15 million to make them feel better.
One observer quipped: "$15 million from the city? No. I say that Clock Boy should get Zuckerberg's stock in Facebook. Every penny. He staked his honor (that's worth a nickel) and his treasure on the truth of this dirty little racist hoax. $50 Billion or bust. He should pay up and go back to Israel. This little adventure should prove to everyone that Zuckerberg stole Facebook from its real inventors: He can't even understand a clock radio."
* * *
LAWYERS FOR THE FAMILY of Texas teenager Ahmed Mohamed — better known as the "clock kid" — demanded $15 million from the city of Irving and its school district for the reaction to the homemade clock Mohamed brought to school in September. The story made global headlines as the 14-year-old Muslim high school student, an aspiring engineer, was arrested and suspended from school after a teacher mistook his clock for a bomb. (ILLUSTRATION: President Barack Obama (2nd R) talks with 14-year-old Ahmed Mohamed during Astronomy Night at the White House on Oct. 19, 2015.)
– It says police illegally questioned Ahmed without his parents present, even after the 14-year-old asked for them.
– It says that during the questioning, Ahmed's principal threatened to expel him if he didn't admit that his clock was a hoax bomb — though he had never claimed it was anything but a clock.
– After police dropped the charges and news of the arrest went viral, city and school officials devised a plan to "trash Ahmed" to the media, according to the letter.
– School officials insinuated that Ahmed wasn't telling reporters the truth about his arrest, and publicly pressured his parents to let them release his private student records.
– Officials falsely claimed that Ahmed violated school policy and "zero tolerance" laws, none of which apply to his homemade clock.
"In ways that are virtually impossible to comprehend, this thing turned the Mohamed family's lives upside down," the letter to the city reads. "All semblance of what they knew before has vanished." The letters also single out Mayor Beth Van Duyne and her interview with Glenn Beck in the immediate aftermath where she painted Mohamed — without evidence — as a jihadist who planned to get arrested to further "civilization jihad." Mohamed's family is seeking $10 million from the city of Irving and $5 million from the local school district, as well as written apologies from the Irving Mayor Van Duyne and the city police chief. The letters threaten a civil suit if the demands aren't met. The Mohamed family has since relocated to Doha, Qatar where Ahmed accepted a scholarship to study.
* * *
Source: Slate