Presidential Medal of Freedom Awards: A Shallow Mockery; Fluff and Racial Disintegration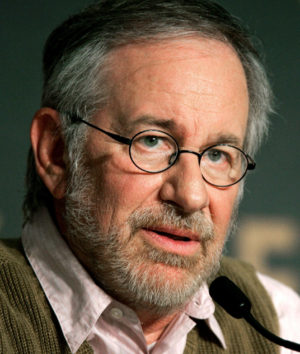 FILMMAKER Steven Spielberg [anti-White Jew, pictured], singers Barbra Streisand [Jewish], Gloria Estefan [European ancestry but identifies as "Hispanic" Cuban; married to half Syrian/Lebanese half-White Cuban husband], James Taylor [formerly married to a Jew; Obama activist] and composer Stephen Sondheim [Jew] are among the recipients of this year's Presidential Medal of Freedom, the country's highest civilian honor.
It will be presented to the awardees at the White House by the US President Barack Obama on November 24.
Other recipients include veteran activist Bonnie Carroll [White], music producer Emilio Estefan [half Middle-Eastern husband of Gloria Estefan, mentioned above], former representative Lee Hamilton [White establishment Democrat, lobbied for Jonathan Pollard's release], NASA mathematician Katherine G. Johnson [Mulatta], baseball legend Willie Mays [Black], Sen. Barbara Mikulski (D-Md.) [White, aggressive leftist and feminist], conductor Itzhak Perlman [Jew], and former EPA administrator William Ruckelshaus [White "moderate Republican" EPA administrator and Monsanto director], reports variety.com.
Posthumous honors will go to Yogi Berra [White, Italian-American wit and baseball legend], Shirley Chisholm, the first African-American woman elected to Congress; Indian treaty rights activist Billy Frank Jr. [Amerindian], and human rights leader Minoru Yasui [Japanese-American activist].
The list of recipients of each year's Medal of Freedom usually includes a handful from entertainment.
Actress Meryl Streep [White Hollywood actress] and musician Stevie Wonder [Black singer-songwriter] were among the recipients in 2014.
* * *
Source: Times of India