Jews in Government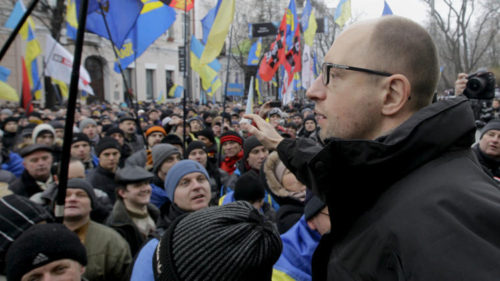 They cause the stink of official corruption.
by David Sims
A STRANGE favoritism for the Jews exists everywhere. I had hoped that since Ukraine recently had a revolution, ostensibly by the Ukrainian people, that the power in Ukraine would be in the hands of some of those people, instead of in the hands of Jews yet again. (ILLUSTRATION: Arseniy Yatsenyuk, a Jew, the post-revolution Prime Minister of Ukraine)
The appearance of Jews in prominent or powerful roles, in disproportionate numbers, is almost always an indication of trouble. For example, we are certainly aware that Jews led the Bolsheviks in 1917 and became the earliest rulers of the Soviet Union. The Jews have maintained their habit of toppling legitimate governments and replacing them with propaganda-supported Jewish oligarchies. The revolution in Ukraine of February 2014 was a Jewish scheme financed with money taxed out of the hands of generally well-intentioned (but politically ignorant) working Americans by the US government.
Between July 2000 to February 2001, at least two international Jewish child pornography syndicates were exposed. One of them was in Brazil's capital city. It was run by Arie Scher, a pedophile pimp whose day job was serving as the Vice Consul for Israel at the Israeli Embassy in Rio de Janeiro, and by George Schteinberg, a professor of Hebrew language at a Jewish school when he wasn't busy taking pictures of naked children. The other was based in Murmansk, Russia, and had sales offices in Milan (Italy), Stockholm (Sweden) and in Walnut Creek, California.
Jews are a minority in Brazil. They are also a minority in Russia, and in Italy, and in Sweden. But it was Jews who were doing these filthy things to small children, raping them and, in some cases, killing them before the cameras.
(For reference, see the Brazilian newspaper O Dia for 6 July 2000; and also see the Italian newspaper La Republica, the Vatican newspaper L'Osservatore Romano, and the Swedish newspaper Aftonbladet, for 28 September 2000.)
The Jews control the press, so that they can do many things that damage our interests. For one thing, they can suppress information about Jewish crime, unless there is some alternate news network like the Internet. Before the Internet, millions of white people were deceived because the television and the press were owned by the Jews.
You might wonder why the newspapers I mentioned exposed the Jewish criminals. The reason is that their crimes had already been exposed when three white Italian journalists arranged for an Italian TV station to broadcast, without prior announcement, a very explicit film about what the Jews were doing. These three journalists were fired from their jobs for what their Jewish employer, Gad Lerner, called "Blood Libel." However, it wasn't libel at all. It was true. And the publicity caused the police in at least four countries to cooperate in arresting the criminals.
Jews are present in disproportionately large numbers in every dirty business from banking, to sexual slavery, to money laundering, to illegal trade in human body organs. And government. Unlike the other businesses, government isn't necessarily dirty. But if you leave the government offices in Jewish hands, then it probably won't be long before the government begins to rot and to stink.
Why didn't Ukraine have a Ukrainian prime minister after its ostensibly Ukrainian revolution? Because it wasn't really a Ukrainian revolution. It was a Zionist coup, and that is why the Jews started popping up in all the top political offices in Ukraine in February and March of 2014, like weeds in an untended garden. The Jews took over Ukraine so that it could become a stage for Zionist theater, with plays performed to deceive the world. Of those "plays," the shooting down of the Malaysian airplane, MH17, followed by Zionist-US propaganda against Russia, was the first.
Voters in USA only know who to vote for when the Jewish-owned media tells them. No matter which of these candidates wins, he is already the Jews' puppet.
Television advertising is expensive, and it can be purchased in meaningful quantity only by those with the required money. The creation of money in the United States is held by the Federal Reserve, which is another Jewish-run corporation. These Jews use the money system (the "US dollar") as a kind of usury-fraud. They create money out of nothing, or in other words they loan it into existence in any quantity they wish, and they charge interest. By doing no work at all, they force everybody else to work to repay the interest or else forfeit to them real property. The money that the Jews extract from Americans by this means is how they control who can buy TV advertising in the amount necessary to run a campaign for election to high political office.
* * *
Source: David Sims