Dozens of 'White Student Unions' Appear on Social Media Amid Anti-Racism Protests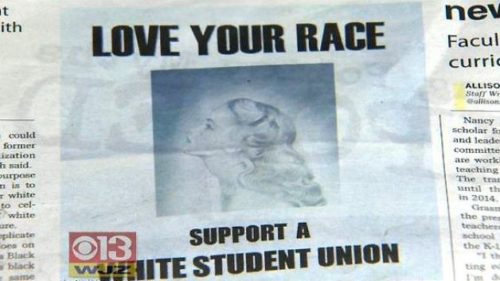 Given the rapid speed with which they have emerged, some have questioned whether the groups are really created by students.
AT LEAST 30 social media profiles of so-called "white student unions" have been set up in the last week, in response to nationwide student protests demanding action to address campus racism.
The pages claim to represent students at universities like Stanford, New York University and UC Berkeley, as well as at the University of Missouri, where protests this month forced the ouster of president Tim Wolfe and inspired activism on campuses elsewhere.
It appears that the first of these WSUs was the "Illini White Student Union", created at the University of Illinois just hours after students gathered for a black solidarity event on campus last Wednesday. Its page has since been taken down by Facebook at the request of campus administrators.
"The Illinois student union that came on last week made us jump at the chance of creating an online presence," according to someone claiming to be a spokesman for the WSU at UT Austin, who would not give his real name. "We kind of kicked ourselves for not doing it beforehand."
UT Austin's WSU describes itself on its page as a "group to promote the ethnic interests of white students and to protect us from BLM [Black Lives Matter] terrorism". The spokesman said the group started as a collection of like-minded friends who began meeting to discuss topics like pride in white heritage and a sense that, in college classes, students are "drowning in an anti-white narrative".
Given the rapid speed with which they have emerged, some have questioned whether the groups are really created by students. In a Medium post by the author "Bears for Equity", it was noted late Sunday that well known white-supremacist and Neo-Nazi blogger Andrew Anglin called for his followers to "[m]ake more of these White Student Union pages on Facebook for various universities. You don't have to go there. Make one for Dartmouth, Princeton, etc."
The spokesman for the UT Austin WSU denied any connection to Anglin, and said that Anglin's call for more group pages "really makes me cringe" and "cheapens what we are doing". He also noted that the first post on his group's page was made Friday, one day before Anglin's post.
Other groups contacted by the Guardian also denied any connection to Anglin. A representative for the University of North Carolina WSU told the Guardian that "we denounce Anglin's call for 'dummy' WSUs" and said they do not want to be associated with Anglin's blog "The Stormer". Similarly, a representative for the UCLA WSU said that Anglin's "views and website are not at all representative of what we believe". The WSU at UC Berkeley also denied any affiliation.
None of the representatives contacted were willing to identify themselves, citing security concerns. All of them also refused requests to confirm their student status by sending a message from an official school email.
Several of the WSUs claim to be part of the "National European American Student Association", which, according to the representative for the UNC WSU, was "founded late last month as an umbrella congress for white student unions".
María Josefina Saldaña-Portillo, a professor at NYU's School of Social and Cultural Analysis, said that the analogy the groups were making between white student unions and the student unions for black, Latino, Native American and other marginalized groups was a weak one. "The celebration of whiteness as a race has a particular history of racial violence, and exclusion," she said.
In the late 1980s, according to the Journal of Higher Education, at least six white students' groups emerged around the country, and, at Temple University and the University of Florida, even managed to become officially recognized by the schools. Several school administrators told the journal in 1990 that the students were largely inspired "by the conservative politics of Ronald Reagan".
According to a spokesperson for the University of Florida, that school's WSU had just five members and only lasted about a year, dissolving when its members graduated. Temple University did not respond to a Guardian request for comment.
In 2012, Townson University senior Matthew Heimbach briefly gained national attention for founding a white student union which sought to "create a safe space for members who have filed hate/bias reports and who have had anti-white language used against them". Some other students, often claiming to be inspired by Heimbach, have launched similar efforts since, but not with the apparent frequency seen in the last week.
Some of the recent pages seem more likely than others to be fake. A recent graduate of NYU, who didn't want to give his name out of fear of online reprisals, said that when he started engaging with posters on the NYU WSU page, he noticed many had online ties to the white supremacist website Stormfront, and were far from New York City, in places like Atlanta and Portland, Maine. "I think that it probably did originate on Stormfront," he said, "and got picked up by people on 4chan who just get amusement out of riling up 'social justice warriors', as they call them."
Saldaña-Portillo said that even if the NYU WSU group wasn't "real", it still presented a problem. "It's a parody that wants to belittle the language of black student movements and to try to show them as ridiculous," she said. "So they don't get let off the hook if it's a hoax, because the hoax is the point.
* * *
Source: Mint Press News