Ayn Rand's Package Dealing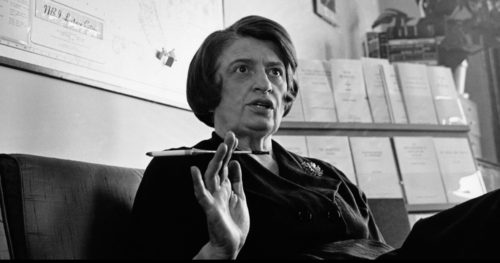 Jewess Rand never took love into consideration — or its biological basis.
by David Sims
ATLAS SHRUGGED is a well-told work of fiction. However, the reader should be aware that the events in the story, as in any work of fiction, come out as they do because that's how the author wanted the outcome to be. Although Ayn Rand (pictured) does try hard to make it appear that what happens is the result of logical necessity or of some law of human nature, no such thing is really true.
As far as "objective" merit goes, Ayn Rand's philosophy strikes nearer to true than do many of its rival metaphysics. Objectivism is better than monotheism. And it is also better than socialism. But despite those superiorities, it is flawed, and the flaws are the result of two false premises: (1) the assumption that humans in general are rational actors and (2) the assumption that every form of collectivism is as unnatural and, hence, is as failure-prone as Marxism is.
First, people in general are not rational. They never have been, and probably they never will be. On Earth you can find ostensible "humans" on either side of the borderline of sapience. Humans act, most of the time, on emotion. They form their beliefs because of emotion. Expecting the majority of humans to be, to think, to act rationally so that capitalism will work wonderfully for all who will engage with it constructively is very much like expecting humans to be, to think, to act in such a way that socialism would work wonderfully well for all who will engage with it constructively.
In other words, Ayn Rand's advocacy of capitalism contains exactly the same flaw that a Marxist's advocacy of socialism contains. Both she and they imagine that human beings are something other than what they really are. Rand over-estimates the extent to which humans can behave rationally. The Marxists over-estimate the extent to which humans can be made to behave altruistically.
Second, although elsewhere (e.g. The Virtue of Selfishness) Ayn Rand deplores the deceptive use of the "package deal" argument, she uses it herself. Rand casually throws together into one category collectivism of every form. But there are important differences between one basis for collectivism and another. And those differences matter because they result in some forms of collectivism working better in practice, as judged over millennia of recorded history, than certain others do.
How many readers of Atlas Shrugged thought that the maliciousness of Hank Rearden's brother and mother were just a bit over the top? That their chronic hostility and their manipulative ways were somewhat too extreme to be plausible for a family? That was my impression, too. It is a family without maternal or filial love. When Ayn Rand wrote those characters, she did it with the intention of setting the family in the same category as Marxism. And the two definitely do not belong together, even though both are forms of collectivism.
That package-dealing identifies Ayn Rand as a perpetrator of philosophical fraud, for she cannot have been so ignorant as to have done it by mistake.
Two hundred million years ago, species were competing with each other for survival, and the main advantages were strength and ferocity. For a very long time, more power meant larger size. The big dinosaurs could overpower (and eat) the smaller dinosaurs. But at some point, about 100 million years ago, nature found a limit with that strategy. Because, you see, strength increases in proportion to the square of body size, whereas weight increases in proportion to the cube of body size. There's a size that is best for usable strength in land creatures, and, once evolution had made creatures that large, there was just no point in making them bigger, since bigger would be weaker.
Evolution never stops finding ways for life to compete, and by 60 million years ago, it had found its alternative: intelligence. But whereas reptile babies hatch with enough survival programming for some of them to get past the hazards of their environment, infants of an intelligent species are relatively helpless when they are born. There is just no telling how many times species with intelligence appeared, only to die out because they would not act collectively, would not guard each other, and left their young exposed, just as the reptiles had always done.
But, fortunately, nature's blind experiments with life found a remedy, a behavioral patch that would make collective action possible for creatures having a sufficiently strong mutual biological relationship. The patch was a new emotion, which we call love, and which at first was an emotional attachment of a mother for her children. Subsequently, males would begin to feel it, too, and their behavior would change so that the mother and their children would be better protected, better sheltered, better provided for. (Specifically, the children must be his or the biological basis for collectivism wouldn't be strong enough.)
And, gradually, the biological basis of love became somewhat broader, so that creatures came to favor their brothers, and then their cousins, above those who weren't related in any important degree. The Arabs have an expression that summarizes it well. "Me against my brothers, me and my brothers against the tribe, me-my-brothers-and-our-tribe against the neighboring tribes," and so on. The strength of the collective bonds created by love vary in proportion to the degree of biological relatedness.
And that's where racism comes from. It's a simple, evolutionary extension of the family feeling. When Ayn Rand called racism "the lowest form of collectivism," she was quite, quite wrong. It is the highest, the most natural, and the most workable form of collectivism. It is a form that should not be packaged-dealed with Marxism. A dog with an empty supper dish is, after all, more like unto a dog with a full supper dish than unto a cat with an empty supper dish.
The proper measure of man is what he is, not what he owns, and certainly not what he has been "licensed" to use.
So be aware, as you thrill to the story in Atlas Shrugged, that Rand's philosophy contains a flaw from which you can draw reasonable-sounding, yet false, conclusions about the nature of man and about the proper organization of human society.
* * *
Source: David Sims