'Avowed Racist' H.P. Lovecraft No Longer Representing World Fantasy Award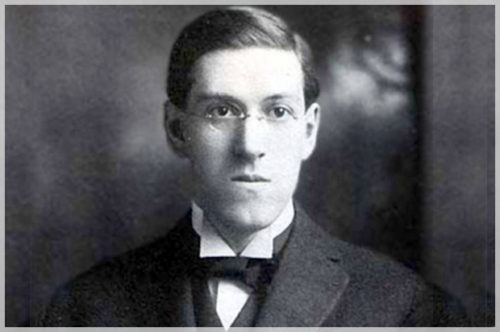 As genes are replaced, so cultures fall.
THE WORLD FANTASY award trophy will no longer be represented by the face of H.P. Lovecraft (pictured) after a campaign last year that called the author out as an "avowed racist" with "hideous opinions".
The change was revealed at the World Fantasy Convention on Sunday, where David Mitchell nabbed the award for best novel for The Bone Clocks. It was announced that this would be the last year that winners would receive a statuette modelled on the face of Lovecraft, Locus magazine reported. No reason for the change or details surrounding what will replace Lovecraft were given.
Last year, Daniel José Older launched a petition, which was signed by over 2500 people, asking for the change, because while the creator of the Cthulhu mythos "did leave a lasting mark on speculative fiction, he was also an avowed racist and a terrible wordsmith."
Older, who was nominated for best of editor of an anthology for Long Hidden: Speculative Fiction from the Margins of History, later told the Guardian by email: "If fantasy as a genre truly wants to embrace all of its fans, and I believe it does, we can't keep lionising a man who used literature as a weapon against entire races. Writers of colour have always had to struggle with the question of how to love a genre that seems so intent on proving it doesn't love us back. We raised our voices collectively, en masse, and the World Fantasy folks heard us. Today, fantasy is a better, more inclusive, and stronger genre because of it."
World Fantasy award winner Nnedi Okorafor, who discovered Lovecraft's racist 1912 poem On the Creation of Niggers following her win, blogged about how "conflicted" it made her feel: "A statuette of this racist man's head is in my home. A statuette of this racist man's head is one of my greatest honours as a writer."
Last year's winner, Sofia Samatar, who won the best novel prize in 2014 for A Stranger in Olondria, told the audience while accepting her award that it was "awkward to accept the award as a writer of colour".
She blogged later that year, "I am not telling anybody not to read Lovecraft. I teach Lovecraft! I actually insist that people read him and write about him! For grades! This is not about reading an author but about using that person's image to represent an international award honouring the work of the imagination."
* * *
Source: National Post