Where Did the Universe Come From?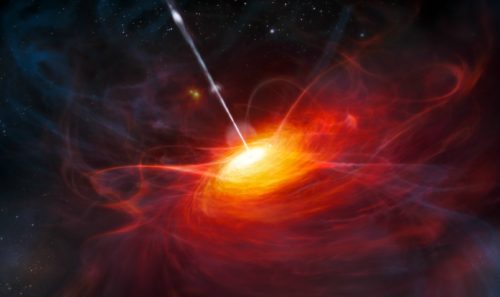 by David Sims
A CHRISTIAN smartypants posted a YouTube video to challenge atheists with the question "Where did the universe come from, and why?" It is a good question. Until the 20th century, no atheist could have answered it, except with a characteristically honest "I don't know."
Where did the universe come from?
First, get rid of any preconceptions you might have regarding the nature of empty space, and, unless you are very good with physics, shed any pretensions that you understand what a vacuum is.
Long ago, a philosopher asked "Why something rather than nothing?" Pure logic suffices to answer that question. Nothing can't be because "be" is just a word that means "exists," whereas nothing or "no thing" is a negation of existence. The being of existence is tautological. Existence exists because there can be no alternative.
In fact, "existence exists" is the only non-trivial tautology. Usually, when you say "A is A," you don't mean that there is no such thing as a B. But in this case, you do.
But having figured out that much, you still don't know what existence is like when it has no special reason to be any way at all. And you haven't explained the universe by finding an explanation for existence itself. For those answers, pure logic isn't enough, and you must turn to empiricism.
Existence in its default condition is what physicists call the unperturbed vacuum state. It's a cold spacetime in which there are no potential differences in energy levels that endure beyond the limitation of the uncertainty principle. There are no causes or effects. On the quantum level, random events happen, fluctuations of vacuum energy having magnitudes that follow a Planck distribution for a cold blackbody. Spacetime boils with this "zero-point energy" flux.
Our universe isn't in this default condition. It is a radical departure from it, with the difference having been greater in the past, and will be less in the future, than it is now. The default state of existence is what our universe is slowly evolving back to, as it expands and as it cools and as its entropy rises. The universe has already undergone several very conspicuous changes in its broad character, with more such changes yet to come, though the time scales over which such changes occur are lengthening.
Vacuum fluctuations happen simply because they are intrinsic to the nature of spacetime, which means they are the primary characteristic of existence in its default state. The classical identification of "emptiness" or of "nothingness" as this default condition is in error, and most people, entertaining these classical ideas regarding existence and its negation, are wrong.
Fluctuations of energy in vacuum, having actions less than Planck's reduced constant, are intrinsic to the nature of spacetime, and they are the primary characteristic of existence in its default condition. The apparent emptiness of otherwise unoccupied space is an emergent property. The averaging that our senses do with the huge numbers of quantum events involved, and the randomness and rapidity of their changes, causes the large-scale featurelessness of space, which we associate with "emptiness," giving us two incorrect ideas: (1) "nothing is there" and (2) "nothing happens there."
A couple of comparisons might help us understand the principle of emergent properties like the apparent emptiness of vacuum.
First, let us suppose that someone lay a very large sheet of sandpaper on the ground, and you could see it from the window of an airplane that was passing over it at the altitude of one mile. Looking at it, you would say that it was a smooth sheet because you would be too far away from it to see the roughness of its texture.
Second, consider an LED flashlight. You turn it on, and it seems to emit a steady beam of light. But that's an illusion. In reality, the LED is turning itself on and off at the rate of 120 flashes per second. But since this is faster than your eye records visual events, you can't see the individual flashes. Hence, the illusion that the beam has a constant magnitude over time.
Vacuum fluctuations occur within our universe, and everywhere else, regardless of whether, or the extent to which, spacetime is perturbed by forces. But our universe has, on top of this background of vacuum noise, enduring potential differences in energy levels that go far above the uncertainty principle. These potential differences give our universe its structure and create many possibilities for the organization of matter, such as stars and life.
The way a universe is born is as follows. Within another spacetime, the fluctuations of energy in vacuum occur with magnitudes that follow a Planck distribution. Most of these energy bumps and dips, relative to the energy level of the vacuum state, are too small to be of any importance. A small percentage, however, are energetic enough to produce virtual elementary particles, such as (e-,e+), by pair production. And a very, very, very small percentage has enough energy to do much more.
When it happens, purely by chance, that a vacuum fluctuation causes, within a parent spacetime, enough energy to be at the same place and time, it will form an object called a kugelblitz, a quantum black hole. The vacuum energy will, by the gravitation of its equivalent mass, separate itself from the parent spacetime by an enclosing event horizon. The amount of energy needed to do this is called the Planck energy, which is:
E = √(ћc 5 /G) = 1.9561e9 Joules = 543.36 kilowatt-hours
Unlike larger black holes, these quantum ones won't emit Hawking radiation. If they did, they'd violate the conservation of energy in the spacetime in which they appeared, causing the parent spacetime to gain energy over time. Instead, the virtual kugelblitzes will simply detach from their parent spacetime: their gravitational field will disturb it no more.
Once in its own trivial universe, the energy that had been in the vacuum fluctuation is in a state that is hypercertain with respect to the uncertainty principle. It's basically all in one quantum address, without anything else to relate to, and without any forces to do the relating with. That state is metastable, like a bicycle hub balanced on one spoke. After a half-life or so of a few billion Planck times, it decays spontaneously, just as radioactive nuclei do.
(Indeed, this is a good place to remark that a wise person is not confused by mere matters of scale. A quantum kugelblitz is very much like any other unstable particle subject to decay. Universes are among the possible products of quantum kugelblitz decay.)
The "unity" of the energy that had been in the vacuum fluctuation is broken when a force, which in our universe was the strong nuclear force, breaks free of the original symmetry. This makes possible a plurality of quantum addresses, and the singular initial state, being now very improbable, is quickly abandoned. Quantum addresses proliferate with great rapidity, causing the inflation of space in a new universe.
And that's where universes come from. The question has had its answer.
* * *
Source: David Sims