SPLC Ordered To Pay $130k For Frivolous Lawsuit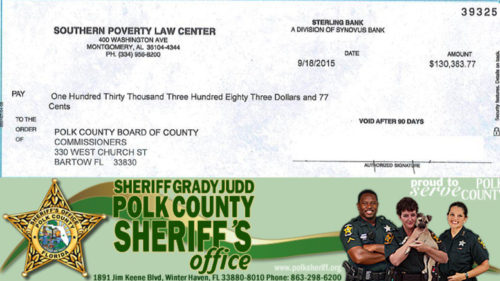 ON March 20th, 2012, the SPLC gleefully announced that they were suing Polk County, Florida Sheriff Grady Judd for allegedly abusing juveniles.
The SPLC then goes silent on the lawsuit and never mentions it again on their website. The SPLC does not want you to know how the case ended. Not only did the judge rule against them, they were ordered to reimburse Polk County $130k.
Sheriff Grady Judd wrote the following on Facebook…
Back in April, I promised the taxpayers of Polk County that we would go after the legal costs and fees associated with this frivolous lawsuit, after U.S. District Court Judge Steven Merryday ruled in our favor that there was absolutely no evidence that juveniles in our county jail were being treated unfairly, as alleged by the plaintiffs. Not only did His Honor pen a 182-page ruling against their claims, he rebuked the SPLC for their legal arguments.

As you know, I am very fiscally conservative, and we are always looking for ways to save money. When we have to spend money defending ourselves against ridiculous allegations such as these, we will pursue every avenue to recover costs allowable by law. We couldn't be more thrilled that we were able to recoup some of those dollars.
The Sheriff asserts that, because they knew the plaintiffs' claims were meritless, the plaintiffs' lawyers chose "untrue, heightened, and emotional language . . . to conceal their lack of a case." Addressing the law in the case, the Sheriff concludes that the plaintiffs "purposely and repeatedly misrepresented the constitutional standard," the definition of which was paramount because the plaintiffs maintained each claim exclusively under the Fourteenth Amendment. The Sheriff contends that the plaintiffs' lawyers, realizing that neither the facts nor the law sustained the claims, "[had] a duty to discontinue their quest" no later than the close of discovery.
Judge Merryday wrote that the SPLC's frivolous lawsuit fell just short of meriting greater sanction against the center. He wrote "the Sheriff's claim falls (barely) short."
The SPLC claims to fight racial hatred, but is actually just a fundraising hustle. It has received failing grades from charity watch groups in the past. The founder and top executives have become fabulously wealthy off of the money donated to the center.
Ken Silverstein wrote the following expose, published in the prestigious Harper's Magazine. Dan Morse, who currently writes for the Washington Post, wrote an expose on the SPLC that was nominated for the Pulitzer Prize.
* * *
Source: Stop Hate Crimes