Finland: Nationalist Street Patrols Now a Reality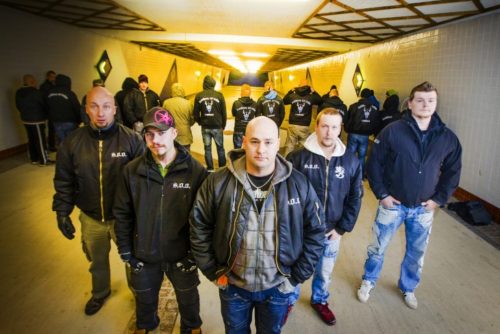 "We fear for the safety of our own"; interview with patrol leader follows report.
AAMULEHTI POSTED a story Thursday about a group that started patrolling the streets of the northern town of Kemi.
The paper writes that starting a few days ago a group of dark-clothed men, who call themselves the Soldiers of Odin, were patrolling the streets of Kemi.
Aamulehti interviewed the patrol's organiser, Mika Ranta, who said the reason behind the patrols was to "increase people's feeling of security."
The paper asked Ranta why he started the group.
"We woke up to a situation where many different cultures met. It caused fear and concern in the community. We started to gather a bunch of people," the paper quoted Ranta saying.
"The biggest issue was when we learned from Facebook that new asylum seekers were peering through the gates of primary schools, looking at young girls," Ranta told Aamulehti.
There is an asylum seeker reception centre based in the northern town Kemi, a town just under 30 km from the border town of Tornio, where the majority of asylum seekers have been arriving to the country recently.
Ranta was quoted claiming that there are hundreds of Soldiers of Odin members across the country.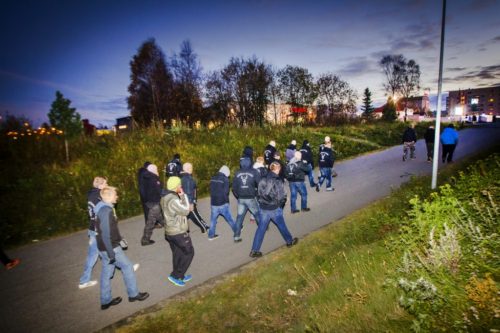 He said that while he describes himself as a National Socialist on his Facebook page, he claims his "opinions are his own" and that there are all kinds of people in the "family friendly" group.
Aamulehti also published a photo of some members of the group, which appears to consist mostly of men clad in dark nylon bomber jackets, many of which appear to be embroidered with an acronym of the group.
Most of the members did not consent to be photographed, and turned their backs for the snapshot. But the five members in the foreground who agreed to the photo were all listed as having Finnish names in the caption.
Finnish police told the paper that it does not recommend patrols or actions like these "under any circumstances."
* * *
Interview with Mika Ranta of the Soldiers of Odin
Q: You have set up the Soldiers of Odin to patrol our streets. Mika Ranta, tell your group's background.
We woke up to a situation where a number of different cultures were in close proximity. This resulted in fear, and concern for our own community. We started to gather a group of people. The biggest issue was when we got the information through Facebook on how new "asylum seekers" were hanging around primary schools at the gates and courtyards looking for young girls. As parents we realized that this situation must be addressed before it is too late. Our goal is to ensure that our operations would create a higher threshold so there are fewer offenses and less rape, regardless of ethnic background.
Q: How many members does your group have?
We have hundreds throughout the country. In Kemi, we have more than a hundred. Membership in our group is also common among mothers who are concerned about the community. Active members of the Soldiers of Odin — the patrol itself — is about 50 people and more are contacting us and joining all the time.
Q: From whom are you protecting people on the street?
We are protecting people from any kind of threatening situation. Even from Finnish people, if they are threatening. We bring security to the streets, so our people can walk even if it's late at night.
Q: Where does the name Soldiers of Odin, Odin's warriors, come from?
I thought about suitable names. My hobby is the history of the Vikings and the supreme god Odin was appealing to me. We also considered the Finnish god Ukko, but we ended up with what we have.
Q: What areas do you patrol in this city?
Where there has been a need — the city center and the Rear Lake area. We have not yet ever encountered problems.
Q: You say on Facebook that you're National Socialist. Do other members of your group have the same kind of background?
My thoughts and my opinions are my own. They are not related to this. Among us there are all kinds of people; we are family-friendly working people mostly, but we also welcome unemployed people who yearn for activity in everyday life.
Q: Are the Soldiers of Odin familiar to a detective sergeant named Janne Koskela?
The police know some of the people that are part of our group.
Q: Have clashes happened?
We have not seen reports of any offenses where they would be suspected of violence — or subject to violence.
Q: Is patrolling legal?
Our laws make it possible for anyone to intervene in acute danger. Of course, keep in mind that maintaining law and order and security ultimately rests with the police.
Q: How does one "patrol"?
If such a patrol sees or detects illegal activity, I believe that their task is then to be the police's eyes and ears. They should be informed about events in the emergency center, and they should inform the police of what they discover.
The press are reporting that the street patrols in Oulu were founded by the Finnish National Socialist Resistance Movement.
* * *
Source: Uutiset