Abe Foxman Joins Israeli Policy Think Tank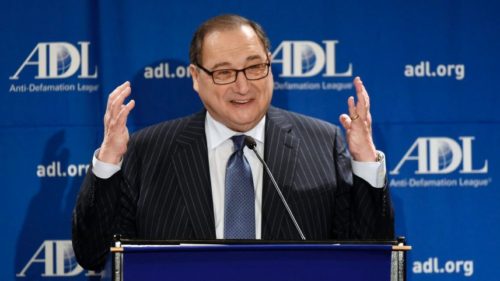 EDITOR'S NOTE: As National Vanguard has been saying for years, the ADL is an agent of a foreign power. Foxman's transfer to an Israeli security group (while he continues to reside in the United States) is just a continuation of business as usual for him: His loyalties, associates, and interests remain the same. First among those interests: Perpetuating Jewish control over White Americans, preventing them from organizing for their own racial and national interests, and continuing to work for their mongrelization and ultimate disappearance as a national/racial entity.
* * *
ABRAHAM FOXMAN, the former longtime head of the Anti-Defamation League, has accepted a role at an Israeli policy think tank. (ILLUSTRATION: Abraham Foxman at Anti-Defamation League (ADL) 2014 Annual Meeting. November 07, 2014)
Foxman will be a distinguished nonresident fellow at the Institute for National Security Studies in Tel Aviv, the organization announced in a news release sent Wednesday.
He will work on "issues of combating anti-Semitism and assaults on the state of Israel," according to the release. Foxman will perform research on Israeli-American relations, as well as the ties between Israeli and Diaspora Jews.
"I've always seen Abe as an undeclared leader of the American Jewish Community and a leading global figure on matters of human dignity and moral conduct," said Amos Yadlin, the institute's director and a retired Israeli army general.
Foxman stepped down as national director at the ADL in July after serving in the post for 28 years. He worked at the agency for 50 years.
"Abe's broad array of relationships, which includes senior government officials in the United States, senior religious officials at the Vatican, and heads of state from around the world will greatly strengthen our ability to engage in and promote vital public policy research," Yadlin said. "He brings to INSS a 'battle-tested' toolbox for countering anti-Semitism, anti-Zionism and anti-Israeli organizations."
The Institute for National Security Studies, which is affiliated with Tel Aviv University, focuses on military and other strategic affairs, including counterterrorism and cyber warfare. It is independent and claims to be nonpartisan.
Foxman will join several other prominent figures at the institute, including Knesset member Tzipi Livni, former Israeli Interior Minister Gideon Saar and Maj.-Gen. Yair Naveh.
* * *
Source: Haaretz