Tony Blair: Whoring for the Jews Again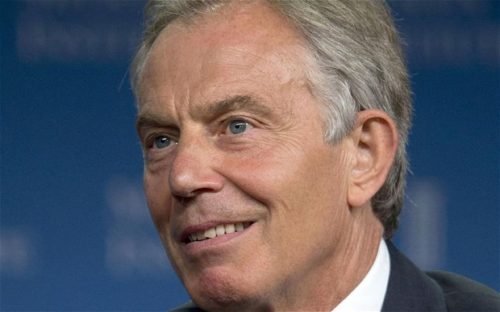 Traitorous politician now openly working for those who have been his employers all along; works to imprison Whites who question Jewish stories.
TONY BLAIR (pictured) has landed himself a new role as the head of an international organisation that fights anti-Semitism and campaigns for the criminalisation of Holocaust denial. On Thursday it was announced that the former prime minister is to become the chairman of the European Council on Tolerance and Reconciliation, following his resignation as Middle East peace envoy last month.
The NGO, established in 2008, is an advisory body that "promotes tolerance," monitors "chauvinistic behaviors" and "fights… racism, anti-Semitism and xenophobia," as well as provide financing for security at synagogues and Jewish schools throughout Europe.
Writing in The Times, Blair and Moshe Kantor, a Russian-born Jewish businessman and President of the European Jewish Congress, warned that Europe is on the brink of a crisis. "There have been three periods in the past hundred years when the annual GDP growth in Europe went below 1%: first in 1913, just before the First World War, second in 1938, just before the Second World War, and third in 2014. Economic decline fuels instability," they wrote.
Blair and Kantor noted a recent report on global anti-Semitic incidents by the Kantor Centre at Tel Aviv University, which found 2014 was one of the worst years in the past decade.
The ex-PM confirmed last month that he was to step down as the representative of the Quartet — US, European Union, United Nations and Russia — in the Middle East. Members of the media, including the HuffPost, speculated as to what Blair's next role might be. Few predicted an international campaigner against anti-Semitism.
* * *
Source: Huffington Post