Russia Completely Bans GMOs in Food Production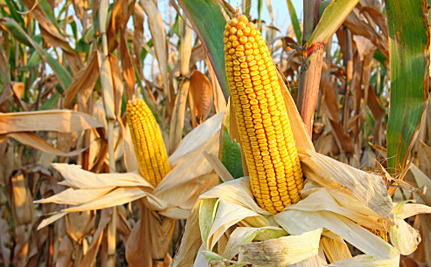 Russia has just announced a game-changing move in the fight against Monsanto's GMOs, completely banning the use of genetically modified ingredients in any and all food production.
IN OTHER WORDS, Russia just blazed way past the issue of GMO labeling and shut down the use of any and all GMOs that would have otherwise entered the food supply through the creation of packaged foods (and the cultivation of GMO crops).
"As far as genetically-modified organisms are concerned, we have made decision not to use any GMO in food productions," Deputy PM Arkady Dvorkovich revealed during an international conference on biotechnology.
This is a bold move by the Russian government, and it sits in unison with the newly-ignited global debate on GMOs and the presence of Monsanto in the food supply. It also follows the highly-debated ruling by the World Health Organization that Monsanto's glyphosate-based Roundup is a 'probable carcinogen.'
But I also want to put it into perspective for you. If this announcement were to be made in the United States, for example, it would mean a total transformation of the food manufacturing industry. But in Russia, the integration of GMOs is not close to the same level as in the U.S.
We know that, in the United States, 90 plus percent of staple crops like corn are genetically modified, along with 94 percent of soybeans and 94 percent of cotton. A ban on GMOs in food production would radically change the entire food supply. In Russia, however, the country is much more poised for a GMO food revolution. [1]
As RT reports:
"According to official statistics the share of GMO in the Russian food industry has declined from 12 percent to just 0.01 percent over the past 10 years, and currently there are just 57 registered food products containing GMO in the country. The law ordering obligatory state registration of GMO products that might contact with the environment will come into force in mid-2017."
President Vladimir Putin believes that he can keep GMOs out of the country, even while staying in compliance with the World Trade Organization's (WTO) commandments. In a past meeting addressing the members of the Board of the Russian Federation Council he stated:
"We need to properly construct our work so that it is not contrary to our obligations under the WTO. But even with this in mind, we nevertheless have legitimate methods and instruments to protect our own market, and above all citizens."
* * *
RUSSIA AND FRANCE have joined the growing list of European countries crusading against genetically modified (GMO) food and crops.
Govt decides to ban GMO food production in Russia – deputy PM http://t.co/LuNIZQVHs9pic.twitter.com/4ej9HtQDCq

— RT (@RT_com) September 18, 2015
According to RT, Russia is stamping out any GMOs in its entire food production.
"As far as genetically-modified organisms are concerned, we have made decision not to use any GMO in food productions," Russia's Deputy PM Arkady Dvorkovich announced at an international conference on biotechnology in the city of Kirov.
Dvorkovich added that there is a clear difference between the use of GMO-products for food versus scientific or medicinal purposes, RT reported.
"This is not a simple issue, we must do very thorough work on division on these spheres and form a legal base on this foundation," he said.
Russia already has hardline policies against GMOs. In 2012, Russia banned imports of Monsanto's corn after a French study linked the company's GMO-product to tumors in lab rats (the study was later retracted). Last year, the country banned imports of GMO products, with Russian Prime Minister Dmitry Medvedev saying the nation already has the resources to produce its own non-GMO fare.
"If the Americans like to eat GMO products, let them eat it then. We don't need to do that; we have enough space and opportunities to produce organic food," said Medvedev. (And in case you're wondering, Russian president Vladimir Putin is also anti-GMO).
The percentage of GMOs currently present in the Russian food industry is at a mere 0.01 percent, RT observed.
Russia's latest move comes after similar news pouring in from Western Europe in recent weeks.
On Thursday, France followed in the footsteps of other European Union countries — Scotland, Germany, Latvia and Greece — and has chosen the "opt-out" clause of a EU rule passed in March that allows its 28-member bloc to abstain from growing GMO crops, even if they are already authorized to be grown within the union.
France Joins Green Wave of GM Crop Bans in Europe. http://t.co/8sXBHfjV70pic.twitter.com/AzOLmzF5Bk — Non-GMO Report (@nongmoreport) September 17, 2015
Specifically, the country wants to shut out the cultivation of nine GMO maize strains within its borders, according to yesterday's joint statement from Ségolène Royal, France's Minister of Ecology and Sustainable Development, and Stéphane Le Foll, the Minister of Agriculture and Energy. "It is part of the very important progress made ​​by the new European framework on the implementation of GMO cultivation in which France played a leading role," the statement reads (via translation from Sustainable Pulse). "This directive makes it possible for Member States to request the exclusion of their territorial scope of existing authorizations or of those under consideration." France's latest GMO-sweep also singles out Monsanto's MON 810 maize, the only GMO crop grown in Europe, and is currently under review at the European level, Reuters reported. France, which is the EU's largest grain grower and exporter, is further cementing its anti-GMO sentiments with this latest move. The country already prohibits the cultivation of any variety of genetically modified maize due to environmental concerns.
 In a statement, Monsanto said that the move from the two countries "contradicts and undermines the scientific consensus on the safety of MON810." Meanwhile, much-maligned company didn't have a total loss this week. According to 
Politico EU
, the Committee on the Environment, Public Health and Food Safety — a key committee in the European Parliament — "rejected a proposal Tuesday to halt an extension in the use of the world's most popular weedkiller," aka Roundup, Monsanto's flagship herbicide.
EU: Committee rejected motion to halt an extension in #glyphosate's use http://t.co/bZV4ThWlSA via @POLITICOEurope pic.twitter.com/qOmEdoxIq7

— PANSWISS PROJECT (@PANSWISS) September 17, 2015
Politico EU added in its report: "Sales of the herbicide, which is contained in 750 products, must stop in December if not given re-authorization. The Commission proposes to extend marketing to June of next year."
Roundup contains an active ingredient called glyphosate which the World Health Organization's cancer arm famously classified as a possible carcinogen.
Despite the health concerns of the product, a Commission spokesman defended the decision. "Extending the approval period by six months will give EFSA [the European Food Safety Agency] time to finalize its scientific conclusions on glyphosate," Enrico Brivio said in a statement.
"On the renewal of the authorization, the Commission, in consultation with Member States, will take appropriate risk management action following the publication of the EFSA opinion," he added.
* * *
Source: Global Research; Care2