Protesters Form Human Wall Against Refugees at Finnish-Swedish Border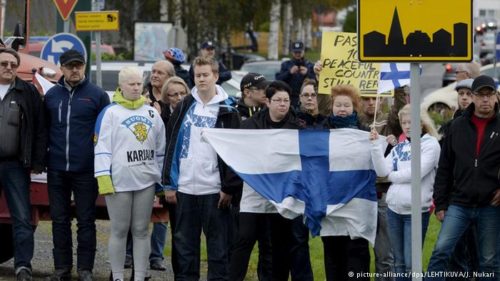 AT LEAST 100 people have protested in the northern Finnish border town of Tornio against the recent rise in asylum seekers arrivals. A registration center for refugees is scheduled to open soon in the town of 22,000.
On Saturday, Finland started border checks for refugees arriving from Sweden in the northern border town of Tornio, while more than 100 Finns demonstrated in the town's center against the growing influx of asylum seekers, forming a symbolic human wall.
According to the public broadcaster YLE, the demonstrators held signs saying "It is enough. Close the borders!"
Local police said the demonstration in the town, which is the sole entry point to Finland for refugees arriving from Sweden, had been peaceful and that protesters did not attempt to block people from crossing the border into Finland.
"From now on, people crossing the border in Tornio will be checked by a procedure led by the police," Finland's Interior Ministry said in a statement.
The ministry said asylum seekers can no longer continue their journey from Tornio to anywhere else in the country without registering as asylum seekers there.
"The situation up north is uncontrollable. People have continued from there to any police station in Finland," Paivi Nerg from the ministry told the online edition of "Helsingin Sanomat" daily.
Up to 30,000 asylum seekers expected
Hundreds of refugees, mainly from Iraq, have poured into Finland from Sweden in recent days and up to 30,000 asylum seekers are expected in Finland this year, compared to 3,651 last year.
Jaana Vuorio, head of Finland's immigration agency, said that from the beginning of 2015 alone 11,263 people have sought asylum in the country. She added that on Thursday, 521 people – the highest number yet – had entered via Sweden.
"I think our economic situation has become a smaller problem than the challenge from the refugees," Finnish Prime Minister Juha Sipila said Friday. "We are monitoring the situation hour by hour."
Finland has been a favorite destination for people from Iraq, Somalia and Afghanistan, according to the Interior Ministry, while fewer Syrian nationals have been registered.
* * *
Source: DW.com