Major US Union Votes to Boycott Israel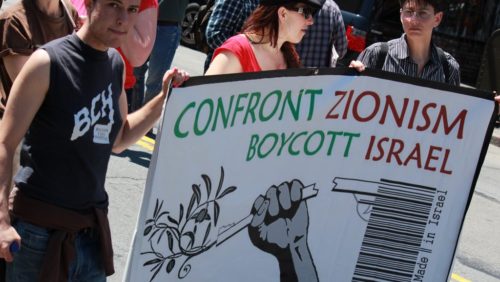 United Electrical, Radio and Machine Workers union joins BDS movement, accuses Jewish state of ethnic cleansing
A US national industrial union accused Israel of ethnic cleansing and voted to support the Boycott, Divestment and Sanctions movement. (ILLUSTRATION: Illustrative photo of signs calling for the boycott of Israel at an anti-Israel protest in San Francisco, April 2011.)
The United Electrical, Radio and Machine Workers union voted on the resolutions on Aug. 20 during its national convention, the union reported on its website Friday.
The resolutions involving Israel and the Palestinians were voted on as part of a series of resolution on foreign policy issues, including support for the Iran nuclear deal. The union said in a statement that it was the first US national union to endorse BDS.
The resolution on Palestine and Israel "points to Israel's long history of violating the human rights of the Palestinians, starting with the ethnic cleansing of 750,000 Palestinians in 1947-48 that turned most of Palestine into the State of Israel," according to the union. It also cites a statement issued by the union's officers in 2014 condemning Israel's war on Gaza.
The resolution also calls for cutting off US aid to Israel as well as US support for a peace settlement on the basis of self-determination for Palestinians and the right of return.
It endorses the worldwide BDS movement in order to "pressure Israel to end its apartheid over the Palestinians just as similar tactics helped to end South African apartheid in the 1980s."
Union delegate Autumn Martinez, who said she met Palestinian trade unionists at the World Social Forum in Tunisia, said, "It's absolutely disgusting what is going on. Free Palestine!"
* * *
Source: Times of Israel