Jewish CEO of Turing Pharmaceuticals Drives Up Price of Medicine for Big Profits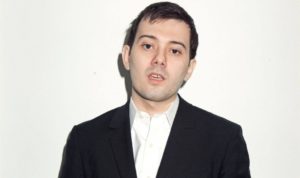 by David Sims
HAVE YOU ever wondered why some medicines are so expensive?
Martin Shkreli (pictured) is a Jewish businessman (he has relatives living in Albania, and is often referred to as an Albanian). Though his Wikipedia page says he is Albanian and Croatian, he was born and raised in Brooklyn, went to Baruch College, worked for uber-Jewish hedge fund manager Jim Cramer in his teens — and had his own hedge fund by the time he was 21. This is not the profile of the "Albanian son of janitorial worker immigrants" he vends to the public. (One unverified source online says his Jewish father's family was adopted by Shkrelis during WW2 "to escape the Nazis.") His personality profile fits the Tribe, too: In recent ventures, he was sued — on two different occasions — for financial shenanigans, including using company funds for personal investments, and not having the collateral he claimed when a loan on a bad stock market bet came due. He also stalked a former employee who had "crossed" him and boasted that he would make him and his family "homeless soon."
Shkreli has a record of making money through activities which, while not illegal, probably should be. In the past, he has reportedly earned money by lobbying the FDA not to approve drugs whose stocks he was shorting. He is presently the CEO of Turing Pharmaceuticals.
Recently, Shkreli became infamous for raising the cost of a drug named Daraprim, which is used to treat parasitic infections, especially among pregnant women and persons with weakened immune systems.
Turing acquired the rights to it, and Shkreli promptly jacked up the price by a factor of about 55, from $13.50 per pill to $750 per pill. Criticism ensued. Shkreli made the predictable justifications, saying that the price increase was necessary so that Turing could make a profit. Generic versions of Daraprim are sold in foreign countries for as little as $20/bottle. It costs a few cents per pill to manufacture. Even the $13.50 pre-Shkreli price was outrageous (welcome to America, sucker).
Shkreli also said that the $750/pill price would "subsidize research" into inventing a better form of the old drug. Doctors replied by saying that Daraprim works fine as it is, adding that Shkreli has no knowledge of medical research.
The Jews' stable of Famous Political Figures (including Hillary Clinton) began weighing in to supply ostensible "pressure" on Shkreli, who pretended to knuckle under by promising to reduce the price of Daraprim. You can bet that it won't be reduced back to where it was, though.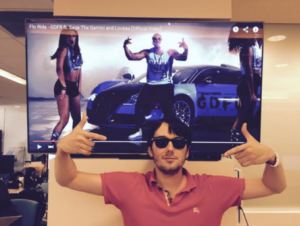 This is a Jewish business strategy. Whenever they want to do something that they know will antagonize the public, they have one of their own, or someone under their control, do something even worse, and then they pretend to "correct" their own agent by telling him to stop doing it, and start doing something that isn't quite so bad instead.
The relative improvement in the public's circumstances is hailed in the Jewish-run media, and is accepted by the gullible common man, as an improvement in absolute terms. The public sighs in relief when it shouldn't and puts up with a change that they might have fought over if the shock-and-horror ruse had not been used.
So when the Jews want to profit more from selling a drug needed to treat sick people, who otherwise would die, they don't just raise the price by a factor of five or ten. They send someone to raise it by a factor of fifty, wait for the reaction to hit the press, then they pretend to back down… yessir, all the way down to where they had planned to put the price from the beginning.
This is also a tactic by which the Jews can make their pre-selected politicians seem like Great Humanitarians, so the public will like them better.
By the way, do you know what Martin Shkreli does with a lot of his time? He plays an MMO (Massively Multiplayer Online) game called League of Legends, where his online handle is "Cerebral." It's a fantasy role-playing game that spun off from Warcraft.
Capitalists and their apologists keep telling us how demanding of time being a corporate executive, especially a CEO, is. We keep hearing how these demands justify the big salaries these executives get. So how is it that some of them can afford to spend a lot of time playing MMOs, or golf, or whatever their favorite recreational sport is? Could it be that we've been lied to about how tough things are for the business elite?
* * *
Source: David Sims