Israel: No Refugees Accepted; Building Border Fences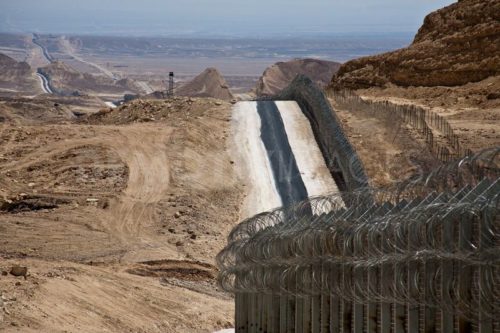 Jews demand open borders for White countries, closed and fortified borders for themselves.
ISRAEL WON'T accept refugees from Syria, Prime Minister Benjamin Netanyahu said Sunday as the government began building a security fence along the Jordanian border. (ILLUSTRATION: Israeli border fence)
"Israel is not indifferent to the human tragedy of the refugees from Syria and Africa," Netanyahu said at the beginning of his Sunday Cabinet meeting, the prime minister's office said.
But "Israel is a small country, a very small country, that lacks demographic and geographic depth," he said. "Therefore, we must control our borders, against both illegal migrants and terrorism."
Accompanied by Defense Minister Moshe Yaalon and other senior military figures, Netanyahu later Sunday toured the section of the eastern border where the is being built.
Israel has already built fences along the Egyptian and Golan Heights borders, and the Jordanian border fence eventually will connect to them, he said.
"Today, we see what is happening to countries that have lost control of their borders," Netanyahu said at the border in an apparent reference to the tens of thousands of migrants and refugees streaming across Europe.
"The combination of very brutal terrorism, labor migrants, smugglers and the loss of control in the face of the human tragedy that is taking place 360 degrees says that we must restore control and ensure Israel's control of its borders," he said.
Netanyahu's comments served as a rejection of a call Saturday by Isaac Herzog, leader of the opposition Zionist Union, for Israel to absorb refugees from Syria's civil war.
"Jews cannot be apathetic when hundreds of thousands of refugees are searching for safe haven," Herzog said, according to the Times of Israel.
* * *
Source: NBC News