Is a Secret Unit of the Greek Coast Guard Disabling Invading "Migrant" Ships and Boats?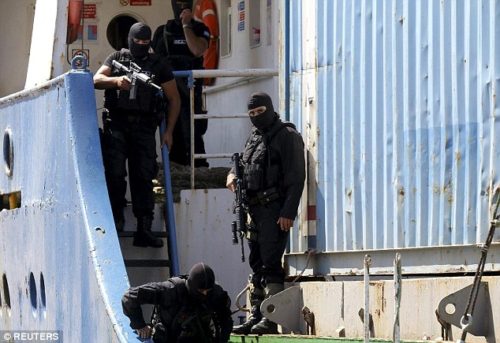 Black-uniformed Greek-speaking White men are allegedly disabling fuel and floatation systems of "migrant" craft off the Greek coast.
JUST OFF the Turkish coast Tuesday morning, 40 Syrians were crammed on a rubber dinghy, desperate to reach Europe, among them Abdeqaden Ibrahim. (ILLUSTRATION: Greek special forces, shown here, wear similar uniforms to the mysterious men in black who are heroically turning back the Brown Tide)
About five miles from the Greek coastline, however, an unmarked speedboat arrived from Greek waters. Abdeqaden said five men dressed in black pointed guns at them. He quickly hid his camera.
Then the men disabled the motor — cutting the fuel supply, according to those aboard — leaving terrified men, women and children adrift in the open sea. CBS News saw the men do the same thing to five other boats.
It's unclear if the men were affiliated with Greece's Hellenic Coast Guard. When CBS News contacted the coast guard, they didn't admit that their men were responsible, but wouldn't deny it either.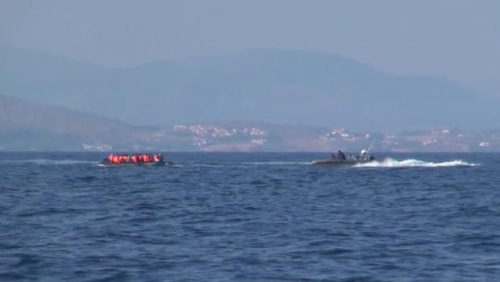 In a statement sent to CBS News, a spokesman acknowledged it was the Greek coast guard that initially located the crammed boats, but suggested the Turkish coast guard was notified and took over the incident. The Greek coast guard would not confirm or deny any specific interaction between its personnel and the migrants in the boats, saying in the statement that officials could not "be more specific at this time."
The Hellenic Coast Guard said it routinely investigated reports of such incidents, but was waiting to see the full details in CBS News' report to evaluate the information available, and would "investigate, if there's a basis for investigation."
The statement from the coast guard called the act of disabling a migrant boat and leaving it adrift at sea "categorically reprehensible," and said it was not "consistent with the mission of the Hellenic Coast Guard, or the morality, the professionalism and the humanity of its members."
CBS News has been told of several similar incidents, however, in which the Greek coast guard allegedly sabotaged refugees' boats to prevent them from reaching Europe, endangering refugees' lives in doing so.
Eventually, the Turkish Coast Guard came to the rescue and, with help from the boat carrying the CBS News team, towed the migrants to safety. Tanya and her family didn't make it to Greece Tuesday, but they're still alive, and they told Williams they'll try again — as many times as it takes — to reach Europe.
One "migrant" claims the mystery commandos are racially motivated, saying "They are racists for sure. Like Nazis. They don't like Muslims. They said to us 'You are killers, you are killers.'"
* * *
Source: CBS News