Historian and Museum Director: Jewish Mafia Looting Antiquities in Middle East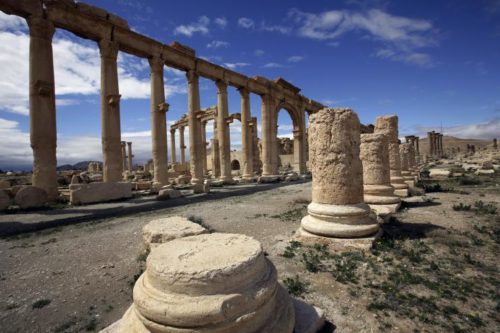 AN IRAQI historian and archaeologist as well as the director of Syria's Palmyra Museum both claimed Wednesday that an "international Jewish mafia" was plotting to loot the Middle East's most treasured antiquities. They said the so-called Jewish conspiracy is part of an effort to destroy the region's Arab heritage. (ILLUSTRATION: The Islamic State militant group has taken responsibility for destroying ancient Middle Eastern cities with culturally significant antiquities, such as the Syrian city of Palmyra, as pictured above March 14, 2014. Now, Jews are being blamed for trying to loot those same items.)
The two discussed the "Zionist mafia" in a video posted Wednesday on YouTube and translated by the Middle East Research Institute, or MEMRI, a not-for-profit press monitoring and analysis organization with headquarters in Washington, D.C. The two-and-a-half-minute video can be watched below.
"The Jews are always looking for antiquities — especially Middle Eastern ones, and particularly Iraqi ones – in order to prove that the Torah is true," Ali al-Nashmi, Iraqi historian and archaeologist, said in the video. "And so they extort, steal, and establish mafia gangs."
Al Nashmi added that "this ancient theory," which he claimed dates back to the days of the Babylonian captivity 2,500 years ago, "was reinforced following the 1987 Zionist Congress in Basel, Switzerland."
Walid al-Assad, director of Palmyra Museum in central Syria, said the Jews want "to erase the Arab origins of the antiquities" and "destroy the city [of Palmyra] and wipe it off the face of the earth." Al-Assad is the son of antiquities scholar Khaled Assad, who was beheaded in late August by the Islamic State group in the ancient Syrian city of Palmyra. Militants from the Islamic State group, also known as ISIS or ISIL, hung the body on a column in a main square of the historic site, according to the Jerusalem Post.
ISIS controls large swathes of Syria and Iraq. The extremists captured Palmyra from Syrian government forces in May and have destroyed dozens of precious artifacts and archaeological sites they consider idolatrous under their rigid interpretation of Islam. [It is widely believed that there is a working relationship between ISIS and Israeli intelligence, as both wish to topple the Syrian government. — Ed.]
* * *
Source: International Business Times