Czech and Slovak Leaders Become First European Office-Holders to Stand Up to Third World Flood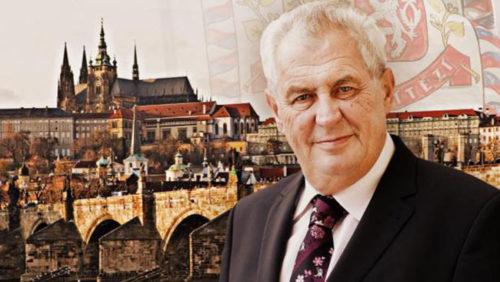 THE CZECH President and the Slovak Prime Minister have become the first European political office holders to stand up and declare that the Third World invasion of Europe is illegal and needs to be repelled with force. (ILLUSTRATION: Czech President Milos Zeman)
As hundreds of thousands of nonwhite invaders continue to pour across the EU borders to parasite off the European people, all the so-called western "leaders" — except those of the Czech and Slovak republics — have publicly welcomed the invasion in one form or another.
Czech President Milos Zeman was the first to speak out against the invasion. In an interview with the Czech newspaper Blesk, Zeman told the invaders that, "Nobody invited you here. Respect our laws, just as we respect the law when we come to your country. If you do not like it, go away."
Blames West's War in Iraq
Zeman then went on to blame Western powers for the current refugee crisis:
"The current wave of migration is rooted in the crazy idea to invade Iraq, which allegedly had weapons of mass destruction, but nothing was found.
"It is not only the United States who is to blame for this, because some EU member states coordinated the operations against Libya," he added.
In another interview with the Radio Frekvence station, Zeman went on to demand that the invaders all be deported to their countries of origin.
"Most immigrants are in Czech Republic illegally, and as they violated law, they should be promptly returned, not placed into various accommodation facilities," Zeman said.
He said most refugees seemed to come to Europe for economic reasons.
"I believe that a crushing majority of them are economic immigrants," he said, arguing that they also came from poor countries that were not hit by war, such as Eritrea, Senegal, Kosovo and Pakistan.
Zeman said he did not expect that these people want to work in the Czech Republic, indicating that they would live on welfare.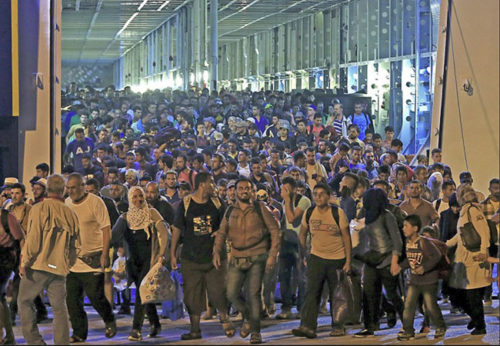 Lists Risks of Nonwhite Invasion
Zeman said there were three risks concerning Muslim immigrants. First, it is the creation of socially excluded zones, ghettos, as these people would not be able to assimilate due to their cultural differences, he said.
He said there is the risk of spreading infectious diseases, though he would not overestimate it.
The third risk is sleeper cells sent by Islamic State that would develop into terrorist organizations, Zeman said.
Zeman repeatedly said the European Union should protect its external border. If this protection fails, it is necessary to stop the migrants at the Czech border and return them, he added.
Calls for Forcible Expulsion by Army
Finally, Zeman told the media that the Czech Republic should defend its borders, using the army to expel illegal immigrants because the European Union isn't curbing the influx.
"Of course I would wish for the EU to strengthen its borders, but I don't see any real action," Zeman told reporters in Prague castle. "Therefore I believe the Czech Republic should take care of its borders alone and expel illegal immigrants from the borders, including with the use of the army."
Slovak PM Warns of Invasion
Meanwhile, Slovak Prime Minister Robert Fico weighed in on the issue, declaring that he would reject all EU "quotas" for redistributing the nonwhite invaders, telling a news conference broadcast live on television that, "We strongly reject any quotas … If a mechanism for automatic redistribution of migrants is adopted, then we will wake up one day and have 100,000 people from the Arab world and that is a problem I would not like Slovakia to have."
Poland, Hungary, Expected to Join Anti-Invasion Stance
More good news is that the Slovak and Czech Republics are currently in talks with the leaders of Hungary and Poland over the nonwhite invasion, and that it is expected they will soon announce a joint rejection of any EU "quotas" as well.
Czech Prime Minister Bohuslav Sobotka has invited his counterparts in the so-called "Visegrad 4" group to discuss the crisis in Prague. It is likely that the end result of this meeting will be a "hardline" stance which they will then present to a planned "extraordinary meeting" of the European Union's interior ministers in mid-September.
The far left French Foreign Minister Laurent Fabius has already called their stance "scandalous" and German Chancellor Angela Merkel — one of the prime promoters and supporters of the current invasion — has also condemned their position.
* * *
Source: New Observer