Austria: Migrant Invasion Spurs 12-Mile Traffic Jams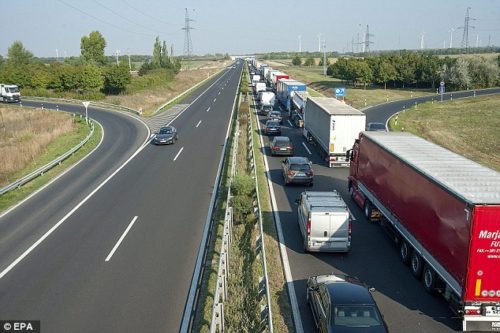 As bureaucratic protocols and paperwork and weak-kneed enforcement fail, more and more will agree with the National Alliance: No non-Whites in our living space.
A CRACKDOWN on migrants has caused tailbacks of 20 miles on the Austrian border with Hungary today. (ILLUSTRATION: A long queue of vehicles on the M1 motorway near Mosonmagyarovar, 158 kms northwest from Budapest.)
Border police discovered 200 asylum seekers and five people traffickers due to the enhanced searches, Austria's Interior Minister Johanna Mikl-Leitner said.
Elsewhere, hundreds of other migrants in Hungary attempted to reach Germany by cramming themselves into trains heading across the border.
Hungary has now completed its barbed-wire barrier and 13ft high fence along its border with Serbia.
Construction workers finished the barrier after hundreds of people scaled the unfinished 13ft high fence and evaded the thick coils of razor wire on Saturday night.
The razor-wire now stretches along the entire 110-mile border with Serbia and is patrolled by border police, but despite this, some 3,080 migrants crossed over on Saturday night, the second-highest daily total.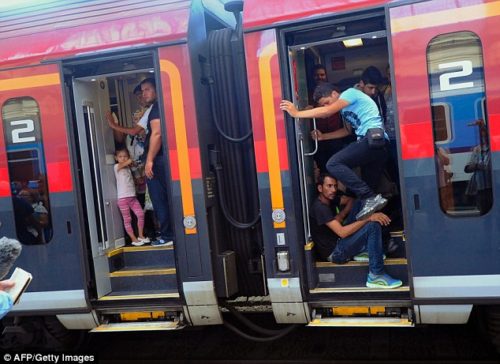 Many migrants have desperately tried to enter Hungary from Serbia in hope of being able to safely make their way to other European Union countries.
Additional staff have been sent to police the border after more than 70 migrants were found dead in the back of a lorry on a highway near Vienna.
Four men have appeared in court in Hungary, facing charges of human trafficking involving torture and targeting financial gain.
In addition to the fence, Hungary's right-wing Prime Minister Viktor Orban has announced plans to stiffen penalties for people entering the country illegally.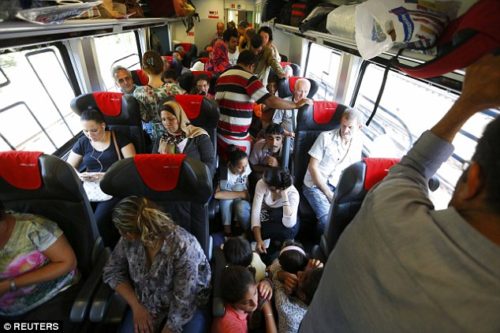 It is estimated that around 300,000 people have arrived in Europe this year alone after fleeing conflict and hardship in the Middle East and Africa.
Some 2,500 have died in the treacherous journey, most drowning in the waters of the Mediterranean after being crammed into unseaworthy boats.
The EU has called an emergency meeting of European leaders to address the growing migration crisis.
The presidency of the Council of the European Union, currently held by Luxembourg, announced that the 'extraordinary justice and home affairs' meeting will be held in two weeks time in Brussels.
It comes after Home Secretary Theresa May released a joint statement with her counterparts from Paris and Berlin calling for an urgent meeting of interior ministers to discuss proposals about how to react to the surge of migrants and refugees reaching European borders.
'Europe needs to stop being moved and start moving,' Italian Prime Minister Matteo Renzi said, calling again for a fairer distribution of migrants among the European Union's 28 members.
French Prime Minister Manuel Valls said that people 'fleeing war, persecution, torture, oppression, must be welcomed' and should be treated with 'dignity'.
And French Foreign Minister Laurent Fabius slammed as 'scandalous' the attitude of certain EU members in eastern Europe in refusing to accept more migrants.
A majority of the migrants crossing the Mediterranean either head for Italy – where another 513 arrived on Sunday, adding to some 108,000 this year – or Greece.
Many then head north through the western Balkans, bound for Hungary, where about 145,000 migrants have been detained already this year, more than triple the figure recorded in all of 2014.
Once inside Hungary, a member of both the EU and the passport-free Schengen zone, getting to countries like Germany and Sweden – the intended destination for most – is relatively easy.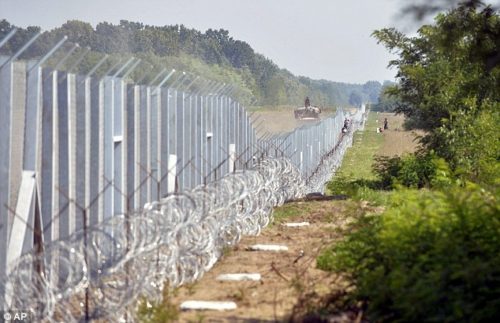 The government says about 40,000 of the migrants, who mostly travel without passports to complicate deportation, have identified themselves as Syrian fleeing the four-year civil war there.
In a further sign that Budapest is clamping down on migrants, police chief Karoly Papp announced more than 2,000 so-called 'border hunter' patrols with dogs, horses, and helicopters would be sent to the frontier from September as reinforcements to the already heavy security presence.
The ruling Fidesz party said it was considering deploying the army to help stem the influx, after unrest erupted at a refugee registration centre at Roszke, with police firing tear gas at migrants.
'Illegal migrants are becoming increasingly aggressive, we cannot tolerate what happened in Roszke, we cannot accept this aggression,' said Szilard Nemeth, a senior party figure and deputy head of the National Security parliamentary committee.
The move is set to be debated at an extraordinary parliamentary session in early September, during which lawmakers are also scheduled to vote on criminalising illegal border crossing and vandalising the border barrier.
Meanwhile, Hungarian police said a fifth suspected human trafficker – a fourth Bulgarian – had been arrested over Thursday's gruesome discovery of 71 decomposing corpses in an abandoned truck on an Austrian motorway.
The five people now in custody are believed by police to be low-ranking members of one of the numerous and often unscrupulous human-trafficking gangs that extract exorbitant amounts of money to transport migrants.
The three Bulgarians and one Afghan already in detention on Saturday said they were innocent as a court in Hungary remanded them in custody until September 29.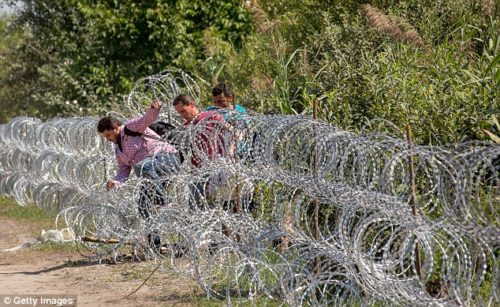 The 7.5-tonne truck with Hungarian number plates found in Austria contained the decomposing bodies of 59 men, eight women, a baby and three young boys, provoking international revulsion.
The dead were thought to be Syrians and police believe they suffocated and had been dead for up to two days before the truck was discovered by motorway maintenance workers due to decomposing body fluids dripping from the vehicle.
Yesterday Austrian police said that three Syrian children rescued with severe dehydration on Friday from a van packed with migrants were taken out of hospital by their parents and 'vanished', most likely to Germany.
'The van was driven by a Romanian and had Spanish number plates and arrived from Hungary,' spokesman David Furtner said.
'This year we have arrested 93 people traffickers in Upper Austria state alone. Most escape though.'
The Austrian government announced yesterday it was 'massively stepping up' checks at the Hungarian border.
* * *
Source: Daily Mail