As ISIS Retreats, Cache of Israeli Weapons Found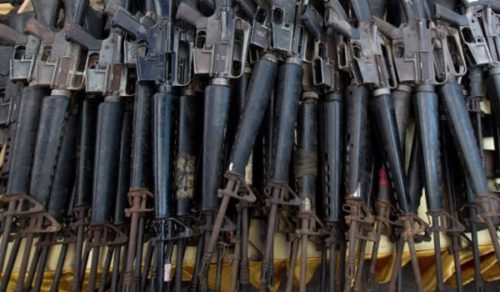 ISIS is fighting to destroy the Syrian state. So is Israel.
AFTER TEN days of the Syrian army and Hezbollah troops' massive operations to cleanse different districts in Southwestern Zabadani region, efforts still continue to discover the terrorists' linking tunnels and hideouts. (ILLUSTRATION: A large cache of Israeli-made weapons was seized in Zabadani region during the mop-up operations by the Lebanese Hezbollah Resistance Movement.)
Only on Monday morning, Hezbollah forces could purge the terrorists from nearly 15 residential blocks in the Eastern part of al-Jasr mosque.
Also they arrested three members of Ahrar al-Sham terrorist group during their house to house searching in Zabadani.
Hezbollah forces also discovered and seized a large cache of Israeli-made weapons and military equipment in areas near al-Rahmah mosque in the Central parts of Zabadani.
The Syrian army and popular forces retook the city of Zabadani from terrorists on September 1.
The Lebanese Hezbollah resistance forces almost completed their mop-up operations in the city of Zabadani that was seized back from the terrorists last Wednesday.
"The resistance forces have purged terrorists from Zabadani in a two-day operation," an informed source told FNA.
The source reiterated that the terrorists had dug tunnels underneath the buildings in Zabadani to get to other parts of the city.
Then on Thursday, Israel attacked a position of the Syrian Army in Zabadani that was used by government and Hezbollah's joint troops to pound terrorists, according to a military source.
The Israeli Air Force has carried out airstrikes against an artillery position of the Syrian Army near the town of Zabadani, around 45 km (28 miles) from Syria's capital Damascus, a military source told Sputnik on Thursday.
"Israeli Air Force planes carried out airstrikes at an artillery position belonging to the Syrian Army," the source said. "The artillery was used by the army to repel attacks from militants in the eastern part of Zabadani."
The source added that terrorists attacked Syrian army positions on the east side of Zabadani in the early hours of Thursday. The Syrian military, supported by the artillery shelling, managed to repel the attack after a three-hour battle.
After the Israeli Air Force carried out the airstrike, militants reportedly launched a second assault attempt, also repelled by the government's forces, according to the source.
* * *
Source: Farsnews