New California: Mass Immigration Turning Virginia Brown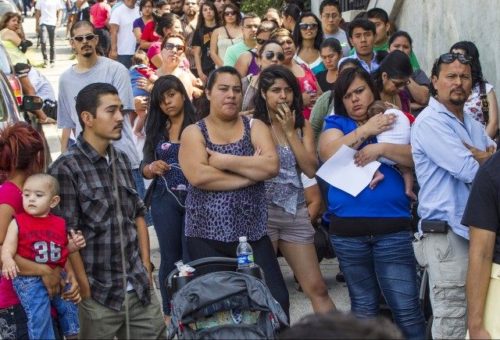 As late as the 1970s, Virginia was over 90 per cent. White — but the Jews have successfully turned the Old Dominion into the New Third World.
EACH YEAR the federal government prints millions of visas and distributes these admission tickets to the poorest and least-developed nations in the world.
A middle-aged person living in parts of Virginia today will have witnessed more demographic change in the span of her life than many societies have experienced in millennia.
A census study entitled "Immigrants in Virginia," released by University of Virginia (UVA) researchers, documented the phenomenon: "Until 1970, only 1 in 100 Virginians was born outside of the United States; by 2012, 1 in every 9 Virginians is foreign-born."
Fairfax Connection, a community newspaper, offered more detail:
In the span of one generation, Fairfax County has seen an explosion in its immigrant population. In 1970, more than 93 percent of Fairfax County's population was white and middle-class. In the fall of 1970, a white 6-year-old child beginning elementary school in one of the county's developing towns… could look to his left, or look to his right, and see a classroom full of children who, at least 90 percent of the time, looked like him and who spoke English. By 2010, a child entering elementary school in Fairfax County would almost certainly encounter a classmate who did not speak English as a primary language, and whose parents or grandparents immigrated from places such as Vietnam, India, Korea or a country in Africa.
UVA's report explains that more than three out of four of Virginia immigrants (77 percent) are coming from either Latin America or Asia—immigration from Europe, the report writes, "lag[s] far behind" representing only 10 percent of Virginia's immigrant population. This is consistent with trends nationwide. According to the 2013 Department of Homeland Security (DHS) Immigration Yearbook, only 8.7 percent of green cards issued by the federal government went to immigrants born in Europe, a product of immigration changes pushed through by Ted Kennedy in 1965. [It wasn't just Kennedy: Jewish senator Emanuel Celler was the leading sponsor of the bill ending America's White-friendly immigration policy in 1965, which was called the Hart-Celler act. Celler also was instrumental in creating the infamous Civil Rights Act of 1964 and Gun Control Act of 1968 — Ed.]
DHS' yearbook, however, does not provide information on parental nativity– in other words, it doesn't say whether an immigrant from the United Kingdom may be the child of Saudi parents.
Additionally, according to DHS, of those refugees issued admissions slips into the United States, 75 percent came from four countries– Iraq, Burma, Somalia and Bhutan– while another 15 percent came from Iran, Sudan, Ethiopia, Eritrea and the Dominican Republic.
Large numbers of these settlers handpicked by the federal government have come to Virginia. A 2011 article from The Washington Post explains: "Soaring number of Hispanics and Asians pushed Virginia's population over 8 million in the past decade."
"Statewide the number of Hispanics almost doubled to 632,000. Hispanics now make up 8 percent of Virginia residents." The Post continues, "The state's Asian population also took off, climbing by 68 percent in 10 years."
The Post notes that, "as recently as 1990, non-Hispanic whites made up 76 percent of the state's residents. A decade later, their numbers had fallen to 70 percent, and [in 2010], they accounted for less than two-thirds of the state's residents."
Because these newcomers to Virginia have largely been invited into the country with green cards or other visas, they can collect public benefits, fill any job, rely on federal retirement programs, and become naturalized voting citizens.
Year after year, the United States continues its annual dispensation of one million plus new green cards, the admission of one million foreign workers, refugees and dependents, and the importation of half a million foreign youths sought by college administrators.
One in four U.S. residents is either an immigrant himself or has immigrant parents. The Census Bureau projects that the U.S. will add another 14 million immigrants over the following ten years if green card programs aren't slashed, pushing the U.S. past all documented historical immigration records in terms of immigrant to population ratio. When a high point was hit last century, then-President Calvin Coolidge hit the pause button for roughly fifty years– producing an era of explosive wage growth. That pause continued until Ted Kennedy [and Emanuel Celler, aided by a massive controlled media campaign] ushered in legislation that granted millions of immigration visas to the entire world.
The steady gusher of visas happens silently and with little media recognition, yet its effects are more permanent and transformative than many of the most far-reaching foreign policy accords.
In 2012, the Richmond Times Dispatch highlighted the political effects of issuing visas to so many migrants from outside the Western World: "The population shift, most notably in Northern Virginia, is changing the state's educational, political and social landscape."
The Times Dispatch continues, "Virginia's demographic changes have also transformed political leanings in the state that, before President Barack Obama's win of electoral votes in 2008, had not backed a Democratic presidential candidate since 1964." …
* * *
Source: Read the full article at Breitbart