Implacable Non-White Demands: Bernie Sanders Wants to Meet Them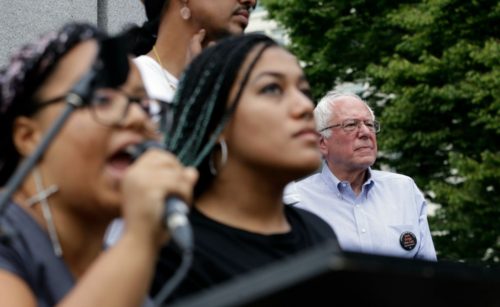 Oh, and he wants to send our young people into war for Israel again, and again, and again, too.
AFTER ACTIVISTS from the Black Lives Matter movement repeatedly disrupted speeches by Sen. Bernie Sanders (I-VT) over the past few weeks, the popular and populist presidential candidate released a comprehensive racial justice platform and hired a young racial justice activist as his national press secretary.
The platform, which has won praise from several prominent voices in the Black Lives Matter movement, focuses on different forms of violence against people of color in the United States: physical violence from law enforcement and extremist vigilantes, the political violence of voter suppression, the legal violence of the War on Drugs and mass incarceration, and the economic violence of crushing poverty. Sanders lays out several proposals to address each form of violence, from passing "ban the box" laws to prevent hiring discrimination against people with criminal records, to outlawing for-profit prisons, to restoring the gutted protections in the 1965 Voting Rights Act.
Though Sanders has been involved in civil rights work since his college days, he has come under pressure from black activists since launching his bid for president. Having represented the overwhelmingly white state of Vermont for most of his life, Sanders has often struggled to specifically address racial justice issues with the urgency the movement is demanding — an urgency fueled by the fact that an unarmed black person has been killed by police, on average, every nine days this year.
The activists who interrupted Sanders' speech in Seattle over the weekend said his "blatantly silencing response" at the Netroots Nations conference in July — when he reacted to an interruption from Black Lives Matter by threatening to leave instead of listening to their message — as their motivation. The Seattle leaders blasted both Sanders and his supporters for failing to show concern about the forces harming people of color in their own community, from the school-to-prison pipeline to police violence to gentrification.
Yet Sanders has not been the sole target of protesters. Activists also shouted down former Maryland Gov. Martin O'Malley (D) at the Netroots Nation conference in July, demanding he and the audience acknowledge the recent death of Sandra Bland in police custody. Instead, he replied: "Black lives matter, white lives matter, all lives matter." He also presented a history of his record as mayor of Baltimore that conveniently left out the zero tolerance policing that disproportionately targeted residents of color.
O'Malley then apologized for saying "all lives matter" and a few weeks later, he released his own detailed criminal justice reform plan, saying: "For too long, our justice system has reinforced our country's cruel history of racism."
Though Democratic frontrunner Hillary Clinton has brought up police violence and racism in several speeches, she has yet to release a detailed platform, a fact that black activist leaders have noticed and called out.
On the other side of the political spectrum, GOP candidates in the 2016 race have been largely dismissive of the movement. Ben Carson called it "silly" and warned against getting "caught up in all the divisive rhetoric and terminology and political correctness." Former Florida Gov. Jeb Bush said activists who are upset when candidates won't affirm that black lives matter are "so uptight and so politically correct." When pressed on police violence against African Americans, front-runner Donald Trump said he would give the police more power if elected.
Even when asked explicitly about the Black Lives Matter movement during the first presidential debate, Wisconsin Gov. Scott Walker offered only vague arguments for more training for police officers and unnamed "consequences" if they cross the line on the use of force. He later said that the topic should be avoided entirely: "I think in general if anyone focuses on racial discord we're going to get more."