Police Seek Suspects Who Left Confederate Flags Near MLK's Atlanta Church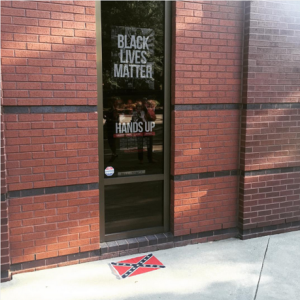 Apparently the Confederate flag is now joining the ancient swastika as a criminalized symbol, and, judging by this hysterical media report, with an effect on Jews and their sycophants similar to the legendary effect of Wolfsbane on vampires.
FEDERAL AUTHORITIES are investigating Confederate flags that were left early Thursday around two historic sites in Atlanta.
Surveillance video captured two white males placing the rebel banners around the campus of the Ebenezer Baptist Church and the Martin Luther King Jr. Center for Nonviolent Social Change, Atlanta Police Chief George Turner said at a news conference.
At least four flags were found. Authorities have not determined what charges, if any, would be filed, but they have not ruled out the stunt as a possible hate crime.
"We have taken physical evidence and are doing analysis right now," Turner said.
One of the flags was placed underneath a sign in the window of Ebenezer Baptist — a historic black church where King once preached — that reads, "Black Lives Matter." The slogan has become a rallying cry in the past year following high-profile cases of police brutality in minority communities.
Another flag was placed on the path to the MLK Visitor Center.
Rev. Raphael Warnock of Ebenezer Baptist Church called the flags a "hateful act."
"This is a sickening and troubling and provocative act," Warnock told NBC News. "Coming on the heels of the Charleston massacre … you have to take something like this seriously."
Dylann Roof, the white man who fatally shot nine parishioners at a historically black church in Charleston, South Carolina, posted photos online posing with Confederate flags. South Carolina lawmakers also moved to take down the flag from the Statehouse earlier this month.
Atlanta authorities say they have strong evidence to help find the suspects. The surveillance video is also expected to be released soon.
Church officials said King considered Ebenezer Baptist, which was founded in 1886, his home.
"To place a Confederate flag on our campus is a political statement," Warnock added. "When we are afraid, when we are concerned, church is where we go. We need to get together now more than ever."
* * *
Source: NBC News