No Place in Hell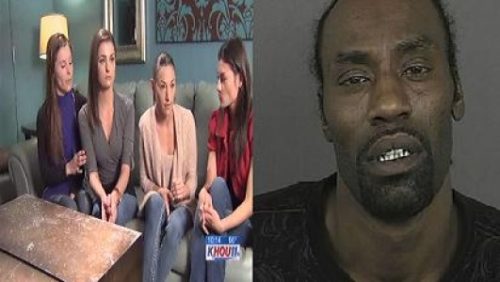 by Dr. William L. Pierce
LAW-ENFORCEMENT statisticians estimate that in 1977 some two million American juveniles will run away from home. Many of these are White girls in their early teens, and a horrifyingly large number of them will end up being lured into prostitution by Black pimps. (ILLUSTRATION: Black pimp "Jell-O" Wallace and his employees)
Pimping is a virtually all-Black profession in America's decaying eastern cities, but prostitution, unfortunately, is not. White prostitutes bring a much higher price than Black women do, and the pimps consequently concentrate on finding White girls for their "stables."
Especially in demand are blonde, blue-eyed Nordic girls from the Middle West. Black pimps have organized a regular "pipeline" of Nordic farm girls from Minnesota and other Midwestern states to New York City. A six-block stretch of Manhattan's Eighth Avenue near Times Square is known as "the Minnesota Strip," because of the large number of young girls from the Middle West on the street there.
When the girls run away from home they head for the Minneapolis-St. Paul metropolitan area, which is the urban hub of the upper Middle West. The bus stations in Minneapolis and St. Paul are thick with Black pimps, all decked out in their Superfly finery, just waiting for the girls to get off the buses. The pimps approach the frightened, lonely young girls with big smiles, offering to help them with their luggage.
Then they buy them lunch and begin sweet-talking them. The object is to get them aboard another bus, bound for New York. The girls all too often end up going along with the pimps, and as soon as they arrive in New York City the pimps have them at their mercy and force them into prostitution, usually forcing them into a drug habit at the same time, the better to control them.
Why does a young White girl fall for a Black pimp's come-on? Officer Warren McGinnis of the New York Police Department's runaway unit explains: "The kid has been brought up not to have any racial bias, and she is bending over backward to show she is not prejudiced when she's accosted by this nicely dressed, sweet-talking, perfumed Black man. She's so conscious that she shouldn't put him down that she forgets she's being picked up by a street hustler."
On the day when justice finally comes to America, there will be no place in hell deep enough to hide for the White preachers and Sunday school teachers and high school principals and newspaper editors and all the other pillars of our degenerate society who have collaborated in pumping the lie of racial equality into those blue-eyed farm girls from Minnesota.
* * *
Source: Issue No. 57, 1977, reproduced from The Best of Attack! and National Vanguard, edited by Kevin Alfred Strom.