Memphis Mayor Wants to Literally Dig Up Confederate General and Move Him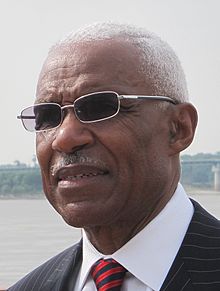 As population darkens, our monuments and heroes will be suppressed, censored, and forgotten.

MEMPHIS Mayor A.C. Wharton (pictured) has called for the removal of the grave of Confederate General Nathan Bedford Forrest from a city park, along with an attached memorial.
"These relics, these messages of this despicable period of this great nation, it's time for those to be moved," Wharton said in a press conference Thursday.
Most historians believe that Forrest was also the first Grand Dragon of the Ku Klux Klan, although he later distanced himself from the group as they became more violent. "This is not just an ordinary monument," Wharton said. "This is a monument to a man who was the avowed founder of the organization that has as its purpose the intimidation, the oppression of black folks."
The local Sons of Confederate Veterans are opposed to the mayor's proposal, naturally. Its leader calls Forrest "very well respected, and a military leader who is still studied worldwide in military academies today."
* * *
Source: Mediaite