Jewish Financial Criminal Paul Konigsberg Guilty in $20 Billion Fraud: No Prison, No Supervision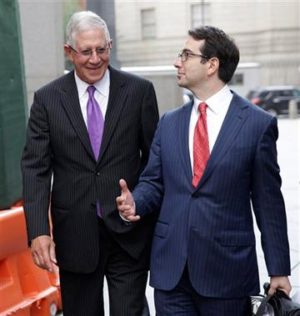 It's patently absurd to think that Konigsberg, architect of the false paper trail that kept Madoff's Ponzi scheme hidden and who instructed a whole staff who forged financial documents on a colossal scale, was a "victim" of Madoff and "didn't know" anything about the fraud.
EDITOR'S NOTE: It's most curious — all of the early controlled media articles on Konigsberg's sentencing leave out the most important and salient fact of all — just what it was that he was in fact sentenced to.
A JUBILANT accounting firm executive who worked for some of Bernard Madoff's most important clients emerged from a courtroom hugging family and friends on Thursday after a judge spared him prison time and agreed not to require post-sentence supervision. (ILLUSTRATION: Konigsberg happily leaving court with his Jewish attorney Reed Brodsky — no jail time, no probation supervision)
The leniency shown 79-year-old Paul Konigsberg means he can visit two of his grandchildren in Moscow as soon as he gets a new passport.
Konigsberg pleaded guilty last year to conspiracy and falsifying books and records, admitting that he unwittingly had a role in Madoff's multi-decade fraud by agreeing to let the Ponzi scheme's employees change trading records on some of his client's financial statements.
U.S. District Court Judge Laura Taylor Swain said what Konigsberg did was "seriously wrong" but agreed with prosecutors and Konigsberg that he did not know Madoff was defrauding thousands of investors of nearly $20 billion.
She said Konigsberg, through his cooperation, earned leniency from federal sentencing guidelines that called for at least eight years in prison. She also rejected a request by a court-appointed monitor recovering money for Madoff investors who had asked that Konigsberg be required to cooperate further with his office as part of his sentence.
Assistant U.S. Attorney David Abramowicz said Konigsberg's help included providing information that explained how Madoff and his workers dealt with his most favored investors.
Konigsberg never was employed by Madoff, though he did give him tax advice. Plagued by his association with Madoff, he sold his Manhattan accounting and consulting firm four years ago.
Konigsberg, who fought back tears as he addressed the judge before the sentence was announced, called Madoff "truly a monster."
"It is an extremely sad day in my life," he said in remarks that left his lawyer, Reed Brodsky, in tears.
But the announcement of the sentence left him giddy as he hugged many of the more than 60 family and friends who applauded after the court proceeding ended.
His supporters included Stephen Konigsberg, who came to the sentencing from Moscow, which his father hopes to visit soon to see two of his grandchildren, ages 6 and 9.
"It's a wonderful result and a just result," the son said outside court.
Paul Konigsberg declined to comment, except to chuckle at the impression his lawyer had left when he told the judge that his client is so charitable that he once told everyone on his plane to take off their clothes to give to people in Cuba before flying out of that country.
"We left with the shirts on our backs," he said with a smile.
The 77-year-old Madoff is serving a 150-year prison sentence after revealing the fraud in December 2008.
* * *
Source: ABC News