Israeli Knesset Member: "God commanded Jews not to sell homes to Arabs"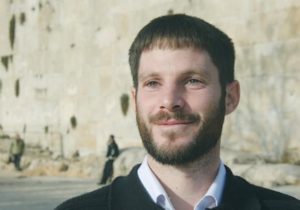 Meanwhile, Jews in US and other Western nations are the main force behind forcibly taking away our rights to sell or associate — or not sell or associate — with whomever we choose.

A KNESSET INTERIOR COMMITTEE meeting erupted into a shouting match after MK Bezalel Smotrich (Bayit Yehudi) (pictured) defended developers who refuse to sell homes to Arabs.
Wednesday's meeting was initiated by MKs Zoheir Bahloul (Zionist Union), Essawi Frej (Meretz), Ayman Odeh (Joint List) and Ofer Shelah (Yesh Atid) following news reports that Galil Homes refuses to sell homes to Arabs in the northern town of Ma'alot.
Smotrich said that "anyone who wants to protect the Jewish People and opposes mixed marriages is not a racist. Whoever wants to let Jews live a Jewish life without non-Jews is not a racist."
According to Smotrich, Jews are the ones who are deprived, because "they don't get free land in the Negev," a reference to Beduin.
"I believe in God's words," the Bayit Yehudi MK added. "I prefer that Jews make a living and wouldn't sell a house to Arabs."
MK Bennie Begin (Likud) quoted from the Torah in Leviticus that "there should be one law for you, stranger and citizen," and Smotrich responded that "stranger" does not refer to a non-Jew, rather it means a convert.
"If this would happen in Europe, you would call it anti-Semitism," Bahloul said. "I experienced this when I tried to rent an apartment in Jerusalem as a young man, and I did not think that Israel would not be able to deal with this phenomenon after so many years."
Interior Committee chairman David Amsalem (Likud) called Ma'a lot "an island of coexistence," said he opposes racism and called for the authorities to prosecute anyone who broke the law.
"It cannot be that people can be prevented from living somewhere because he is Jewish or Arab," Amsalem said.
However, Amsalem accused Arab MKs of hypocrisy for saying Ma'alot must be more mixed, because he has "never seen a Jew live in an Arab village…Would you accept a Jew living in Sachnin? If the state releases tenders in Arab towns that are only for children of people who live there, why don't you defend Jews? There is racism on both sides."
Odeh responded that he is against all displays of racism and anyone who wants to live near him is welcome, adding that his neighborhood in Haifa used to be entirely Arab and in recent years it became 25 percent mixed, which "adds to and enriches" the area.
Frej said he is sure this is not the last time the committee will discuss discrimination and racism.
Tal Attias, a lawyer representing Galil Homes said that the news reports were inaccurate, and that the man who leaked the stories was not rejected from buying a home, rather that he was told the company does not yet have final authorization to build more houses. In addition, he said a secretary who told reporters that the company does not sell to Arabs was mistaken and was fired.
* * *
Source: Jerusalem Post