Intelligence Agencies Fostered UK Pedophile Network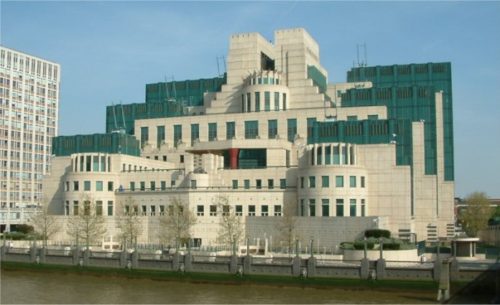 Investigation suggests MI5, CIA, Mossad, Rothschild involvement; politicians became blackmailable and controllable through involvement in perversion and subsequent threats of selective exposure — but can we trust the government inquiry?
THERE CAN BE little doubt that there have been serious cover-ups over VIP child sex abuse in the UK over the years. Now the Government should be allowed complete access to all of MI5's secret files which will reveal the names of those responsible, says MP Tom Watson, who, three years ago, was the first to raise these allegations in the House of Commons. (ILLUSTRATION: The Secret Intelligence Service building in Vauxhall)
He believes that in the course of the investigations, the Official Secrets Act should be set aside in order for evidence to be gathered effectively.
Mr. Watson said:
"The MI5 files are key to understanding who knew what and when.
"They might also reveal how reported crimes were not adequately investigated and on whose orders."
The inquiry into VIP pedophiles has run into constant problems since its inception last year. A major difficulty has been in finding someone to lead the inquiry, as the first candidate chosen, Lady Elizabeth Butler-Sloss, was found to have links to the establishment and was removed from her position after only 6 days. Her replacement, Fiona Woolf only stayed in the job for a month before stepping down.
In February 2015, a new leader of the inquiry was appointed with no links to the UK establishment. Dame Lowell Goddard, a 66 year old judge from New Zealand, took up the role of Chairman and prepared to lead the investigations. She has, however, declared that all State departments will be required to comply with orders to release files to the inquiry.
Although the evidence gathering process has been very lengthy, it appears that the inquiry itself may now be ready to start, with a first year budget of £17.9 million.
Speaking to the Mirror newspaper, Mr. Watson said:
"Police investigations into the serial sex abuse of liberal MP Cyril Smith were closed down by special branch in the 1970s, allowing him to terrorize children across four more decades.
"There are serious claims of an establishment cover-up of allegations of pedophile abuse involving the then home secretary Leon Brittan in the 1980s.
"It's also now well-documented how police failed to prosecute senior British diplomat and MI6 operative Sir Peter Hayman in 1978 despite having a sickening stash of pedophile literature and sexual fantasy diaries."
The inquiry itself is likely to drag on until at least 2020, as the process involves up to 30 witness hearings, all of which will take around 6 weeks, prolonging the investigation for over 3 years. By the time the report is produced, it is likely that David Cameron will no longer be residing in Number 10.
* * *
Source: Acclaimed News