Hamas Asks: Is ISIS Controlled by Israel?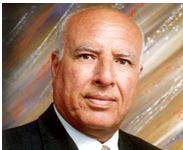 FAIZ ABU SHAMALA (pictured), a journalist for the official Hamas paper Palestine, on Sunday posed a series of questions clearly implying that ISIS (sometimes called Daesh by Middle Easterners) was being used by Israel.
"Why doesn't Daesh attack international naval ships on the Red Sea and the Israeli tourists in Sharm el-Sheikh?," questioned Shamala, using an Arabic acronym for ISIS. "Why does Daesh attack the Palestinian fighters and not the collaborators with Israel?"
"Why doesn't Daesh start a war front against Israel from the West Bank which could more greatly affect Israel than from the Gaza Strip? Why does Daesh spread a poster calling for Christians to leave Jerusalem but doesn't publish a similar poster against the Zionists? Why doesn't Daesh act against Israel from the Jordan border and (why) doesn't it attack the Jordanian regime even as the Jordanian air force strikes Daesh targets?"
Shamala posed an answer to his own questions with a conspiracy theory claiming that Israel is using ISIS to destroy Hamas, after being "unable" to destroy Hamas in direct warfare.
ISIS recently threatened to overthrow Hamas in a video message, expressing animosity to the Gazan offshoot of the Muslim Brotherhood for not fully implementing Islamic Sharia law and for being too "moderate."
* * *
Source: Read the full report at Israel National News