France's Le Pen: Alliance With US A Mistake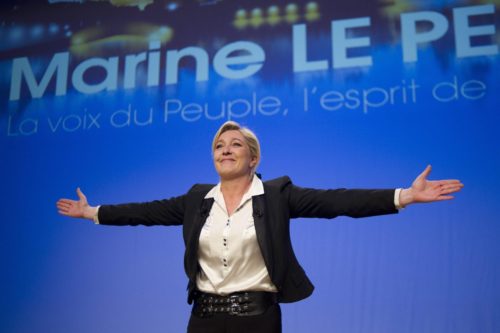 THE UNITED STATES is "neither an ally nor a friend of France," member of the European Parliament, leader of France's National Front political party Marine Le Pen (pictured) said, commenting on reports on eavesdropping on mobile phones of the last three French presidents.
"The revelations made by the WikiLeaks website seem to be very serious," she said. "This eavesdropping poses a direct threat to our national independence, sovereignty and security."
Le Pen demanded harsh response, specifically, "France's withdrawal as of today from the talks on the Transatlantic Economic Partnership." "We should no longer tolerate such practices," she said.
"The French must understand that the United States — I am talking about the US government, not about the people — is neither an allied nor a friendly country," Le Pen noted. She described France's return to the NATO military command in the past decade as "a serious strategic mistake that had to be corrected."
"The United States is a hegemonic power ready for anything to enhance their control over our country," the politician said. "This is not a new statement, there were periods in history, even recently, when the French government spoke out against this encroachment on our freedoms, independence and honor. The latest scandal should prompt us to rediscover our national interests."
The scandal in connection with the reports of spying on French presidents by the US intelligence agencies broke out on Tuesday evening following the publication of the results of a high-profile journalistic investigation.
The revelations reported by the Liberation daily newspaper and the Mediapart news website together with WikiLeaks indicate that the US National Security Agency (NSA) monitored telephone conversations and intercepted e-mail messages of three French presidents — Jacques Chirac, Nicholas Sarkozy and Francois Hollande — and their close aides between 2006 and May 2012.
* * *
Source: NovoRossia Today