White Collar (?) Crime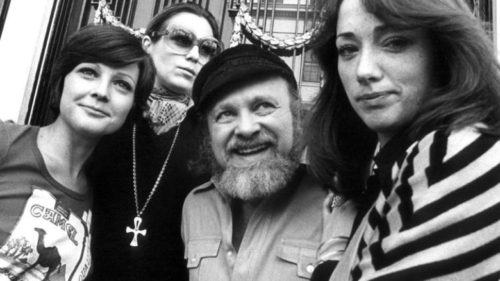 Perhaps another adjective would be more accurate
WE HEAR a great deal about white collar crime and how unfair it is that a business executive who steals millions of dollars from investors receives a suspended sentence or at most a few months in jail while a second-story man who makes away with a $200 TV set gets five years. (ILLUSTRATION: Scammer Bernie Cornfeld and friends)
One big omission in stories of white collar crime, however, is that when large amounts of money are involved almost all the white collars have been worn by members of one minority, as we shall see by a quick rundown of some of the most spectacular financial swindles in recent years:
1) Some meat suppliers to the armed services have charged up to $3.85 per pound for choice grades of beef and then supplied inferior grades in their place. TV commentators were righteously indignant about this. But what Cronkite and company did not mention was that the two firms most deeply involved in the fraud were G&G Packing and the State Beef Company, owned respectively by Harry Goldberg and Abe Cohen.
2) In the recent spasms of Medicaid fraud, the principal culprit turns out to be ex-Rabbi Bernard Bergman, who pyramided his legal and illegal operations of nursing homes into a $24 million nest egg. Other nursing homes thieves billed the government for private swimming pools, trips to Europe, servants, and in one case a Rolls Royce and chauffeur. Herbert Kallen, assisted by accountant Murray Weiss, even made U.S. taxpayers subsidize the weekly grooming of Pierre, his French poodle. Eugene Hollander, the spokesman for New York City nursing industry and no relation to Xaviera Hollander, a Dutch Jewess who is now America's most publicized madame, bilked the public out of $1.1 million in illegal use of Medicaid funds.
3) A different kind of medical fraud was involved in the disappearance of $525,000 from Miami's Cedars of Lebanon Hospital. Sanford K. Bronstein was found guilty of this larceny, just after an extension of the hospital was opened with great fanfare by President Nixon. About $200,000 went right into Bronstein's pocket. Most of the rest, according to Bronstein's lawyer, went in the form of "heavy payoffs" to federal agencies for a $62 million hospital loan.
4) Edward Krock, a Lithuanian immigrant's son and an associate of the "conservative" New York wheeler dealer Roy Cohn, was indicted for evading $1.4 million in income taxes from 1966 to 1969. Krock has a thirty-eight room house on a 500-acre estate in Brockway, Massachusetts, and a 150-foot yacht. appropriately named the Speculator, which he keeps in the Bahamas. Worth about $600 million, Krock has large interests in banking, insurance, motion pictures and various manufacturing companies.
5) Jake Jacobsen, the Texas lawyer, and former lobbyist, who unsuccessfully accused ex-Treasury Secretary John Connolly of taking a bribe, has now pleaded no contest to charges of defrauding a Texas savings and loan association of $825,000. He was not sent to jail, but put on probation for seven years.
6) Yaacov Meridor and Mila Bener, two Israelis, had to resign as the heads of Maritime Fruit Carriers, a large shipping line which recently defaulted on $23.5 million owed to British ship builders. Meridor and Bener were hailed as heroes in the British press three years ago when they placed orders for thirteen tankers, and options for thirteen more. Now that they cannot pay for them, "the whole future of the British shipbuilding industry is affected," said Patrick Simmons, a British ship broker. At least 35,000 British workers were employed on the construction of the tankers.
7) A. M. Aronson and Company, a Rotterdam trading house, shipped pharmaceuticals to Yugoslavia that were found to consist of sawdust, stones and coarse yellow powder. Major European and American banks were caught short on the transaction as well as Austrian, Yugoslavian and Moscow financial concerns which lent Aronson and Company $20 million to finance the shipment.
8) Bernard Cornfeld, Brooklyn-born head of a mutual fund that fleeced investors, mostly West Germans, out of more than $100 million, spent some time in a Swiss jail, but is now living a Pasha's life in Beverly Hills, where he recently married an ex-model in a lavish Jewish wedding. In 1973 Cornfeld pleaded guilty to indecently assaulting and beating a nineteen-year-old girl in his London townhouse. Earlier this year he surrendered to federal authorities on charges that he used various electronic devices to defraud the Pacific Telephone Company out of payment for 300 long distance calls to Europe.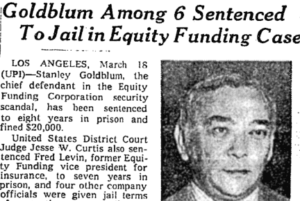 9) Stanley Goldblum, whose Equity Funding Corporation went under to the tune of more than $2 billion, the largest insurance fraud in history, specialized in borrowing money on fake policies. Mirabile dictu, Goldblum is in jail, if you can call one of those plush country club detention centers a jail.
10) Paragon Securities went bankrupt in 1974, leaving investors $2.9 million out of pocket for undelivered bonds. Michael Weissman, the president, was once quoted as saying, "I must build the biggest financial supermarket in the country — Merrill Lynch ain't seen nothing yet." Just before the firm collapsed, Weissman borrowed $100,000 from the company treasury. Among the bankrupt firm's few assets was a yacht.
11) Mentioned recently as being heavily involved in the fraudulent inflation of mortgages which grew out of the $100 million federal effort to rehabilitate slum housing were eight New York slum lords — Rosa Polinsky, Abraham Borg, Murray Krownin, Mrs. Goldweber, Jack Seid, Herbert Hurwitz, Morton Knot, Harold Thurman.
12) Morton Freeman and Bernard Howard were arrested in Beverly Hills for what was described as the biggest bad check operation in history. They had printed fake Los Angeles city checks and tried to clear them through bogus firms in Chicago.
13) In 1969 Mort Zimmerman pleaded guilty to fraudulently trading shares of Intercontinental Industries, Inc. In 1972 he was fined $30,000 for removing $1.2 million in an insurance company's liquid assets for his private use. In 1974 Zimmerman pleaded guilty to mail fraud. So far he has spent no time in jail.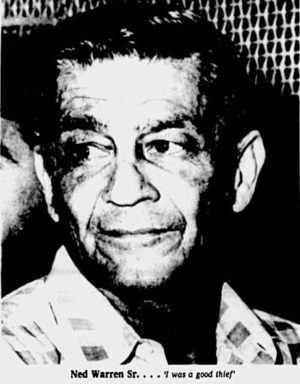 14) Land fraud, which has become very popular of late, generally takes the form of selling raw land for high prices on the promise of furnishing improvements and surrounding it with recreational areas and shopping centers. After the sale, the developers vanish or become very hard to find. A further twist is to sell high-interest, short-term notes to investors, notes secured by bogus mortgages on the almost worthless land. The head man of such an operation in Arizona was Ned Warren, a Jewish Easterner. Several lesser fry were later indicted in a $200 million Arizona land fraud. Their names: Irving Blum, Daniel and Howard Friedman, Henry L. Hoffman, Herman Oberman and Solomon Friend. To be fair we should say that one of the indicted men bore the name of Carity. The man behind the equally large land swindles in Florida was Bernard Horowitz. Not surprisingly, a few Majority employees of Horowitz have already gone to jail, while the boss is still free on bond.
15) Michael J. Lasky ran a clever and profitable racket based on moral rather than financial blackmail. He would bill companies for advertising they had not ordered in various minority publications, such as the Jewish Advertiser, Negro Newspaper Group and El Mexicano Agency. Afraid to argue about the invoices — which might be interpreted as racism — the business firms paid up. Gulf Oil, for example, gave Lasky $20,000, which only accounted for a fraction of his $15 to $20 million annual take.
16) Morris Karp was another crook who grew fat on handouts to minorities. He stole $2.4 million from two companies subsidized by New York State and New York City to build low-cost housing.
17) The firm of L. William Seidman, economic advisor to President Ford, was found guilty by the SEC of not uncovering "fraudulent conduct" on the part of four corporate clients. One of these corporations was Cenco, the largest manufacturer and supplier of scientific instruments to educational institutions, trading on whose stock was suspended by the SEC after the discovery of a massive inventory swindle. Cenco is controlled by centimillionaire Alfred Strelsin, one of the country's leading Zionists. Another Seidman client was Equity Funding.
18) When U.S. citizens were again permitted to purchase gold on December 31, 1974, it was just a matter of time before some gold swindling scheme would materialize. The June 11, 1976 issue of the Wall Street Journal reported that Harold Goldstein and Paul Levine were indicted by a federal grand jury for selling, but never delivering, $1 million worth of gold to investors. One of the fronts under which Goldstein operated was a nonexistent "old English investment banking firm" which he named Brentfields, Daniels and Martin, Ltd.
Considering that Jews represent less than three percent of the American population (according to their figures), the above list shows an unhealthy Jewish propensity for financial crimes. Is this propensity environmental or genetic? We would say both. Is merely discussing this Jewish trait anti-Semitic? It is, according to currently held interpretations of the word in the media, in academia and in general usage. If the truth should have an anti-Semitic tinge, should it be suppressed? Present-day custom dictates that it should. Instauration, for this reason, may be designated an iconoclastic publication.
* * *
Source: Instauration magazine, December 1976