President of Argentina Fights Back Against US Oligarchs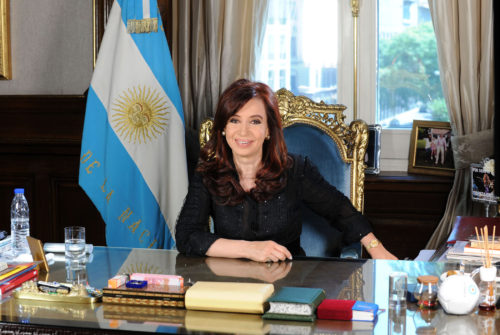 Jewish pressure and corruption causes some Argentinian Jews to defect to the Argentinian side
ALL the elements of classic anti-Semitic conspiracy theory are there: Jews who made their money charging "usurious" interest; powerful gentile politicians "bought" with Jewish money; local Jews working surreptitiously for international Jewish banking interests.
This is not 19th-century Czarist Russia, where The Protocols of the Elders of Zion was fabricated. Nor is it one of the Arab countries where the Protocols are considered a legitimate reflection of reality.
When a Jewish political figure in Argentina, Alberto Nisman, ended up dead at the hands of an unknown gunman, it unintentionally unraveled multiple threads of Jewish power and money extending into this highly-developed — and largely White — South American country. Nisman had been claiming that the President of Argentina, Christina de Fernandez Kirchner (pictured), was covering up for the perpetrators of the bombing of a Jewish group's headquarters (the Asociación Mutual Israelita Argentina, or AMIA) in Buenos Aires in 1994. Nisman alleged that Iran and Hezbollah had planned and carried out the car bombing — which was identical to bombings that had rocked Lebanon. And he also accused President Fernández de Kirchner and her Foreign Minister Héctor Timerman — himself a Jew — and others close to the government were working to cover up Iran's involvement in the terrorist attack, as part of a major trade agreement that included swapping Iranian oil for Argentinean grain.
When US Jews began to parrot Nisman's claims and accuse Argentina of failing to investigate — or even being implicated in — Nisman's death, the President responded by summarizing and apparently endorsing an article critical of some of Argentina's Jews, US financiers and right-wing American politicians "owned" by Jewish interests, as well as the CIA and the Mossad. (The article itself was written by a Jewish whistleblower, and several prominent Jews are taking Fernandez's side in this — perhaps to retain their positions in her administration, perhaps out of genuine dismay at the overreach of US Jewish oligarchs,)
In tweets and a long blog post, Fernández summed up an article penned by Jorge Elbaum, a former executive-director of the Delegation of Argentinean Israelite Associations (DAIA) and a present Fernández ally, that the pro-government daily Página/12 published around the time of De Luca's decision.
Titled "Vultures, Nisman, DAIA, the Money Route," the article claimed right-wing Jewish "vulture" fund managers who made their fortunes by charging "usurious" interest and to whom Argentina owes millions of dollars, have bought US Republican congressmen to put pressure on Buenos Aires to end all ties with Tehran.
Nisman, who Fernández claimed was an agent of Israeli and right-wing Jewish American interests, was said to have offered hedge fund money to DAIA so that it would be immune to the government budget cuts expected to be imposed by the Fernández government as punishment for defying it on Iran.
In the latest chapter in this saga, Timerman, who is Jewish and is the son of Jacobo Timerman, a newspaper editor who was kidnapped during the "Dirty War" and later escaped to Israel, publicly resigned as a member of AMIA.
In his resignation letter, Timerman reiterated claims made by Fernández and Elbaum that "vulture funds" that had "mounted a campaign in the US" were exploiting the bombing to end Argentina's relations with Iran, in particular a memorandum of understanding the two countries signed in January 2013 that an Argentinean court later ruled unconstitutional.
Timerman also accused AMIA of obstructing attempts by the government to bring to justice those responsible for the AMIA bombing.
Representatives of the Conference of Presidents of Major American Jewish Organizations recently traveled to Buenos Aires and met with AMIA's leaders. They expressed concern over the anti-Semitic comments made by "authority figures," noting "words lead to actions."
* * *
Source: Jerusalem Post and National Vanguard correspondents