Over 40 ICBMs to Be Added to Russia's Nuclear Forces This Year – Putin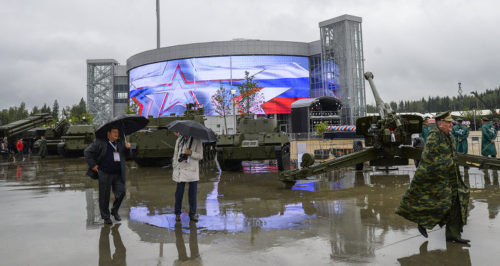 Russia will reinforce its nuclear potential in 2015 by adding more than 40 new intercontinental ballistic missiles, Russian President Vladimir Putin said Tuesday.
(ILLUSTRATION: Russia Showcases Firepower at Army-2015 'Military Supermarket')
RUSSIA's Sputnik news Service reports:

The Army-2015 expo, which kicked off earlier in the day, will be held in the Moscow region until Friday. The event includes the display of an estimated 5,000 pieces of weaponry and military equipment presented by hundreds of international defense companies and weapon manufacturers.
According to the Russian Defense Ministry, the Russian Strategic Missile Force (SMF) Topol ICBM launcher and the latest version of the RS-24 Yars (SS-29) ICBM launcher training simulator will be unveiled at the event for the first time.
The ministry previously said that RS-24 Yars and Topol-M ballistic missiles is the ground-based component and a pillar of Russia's nuclear triad, accounting for over 80 percent of the SMF arsenal by 2016.
Meanwhile, the Christian Science Monitor reports that heavy US weapons are being moved into position in Poland, while US-dominated (and therefore Jew-dominated) NATO plans to stockpile tanks and other weapons in eastern Europe and is discussing bringing NATO ground troops directly to the Russian border in Estonia, Latvia and Lithuania:

Russian officials have described Moscow's plan to add more than 40 new intercontinental ballistic missiles to the country's nuclear arsenal this year as a move to modernize its military, not an attempt to rekindle an arms race with the West.
On Wednesday, Yuri Ushakov, Russian President Vladmir Putin's main foreign policy adviser, said that any arms race would hurt the struggling Russian economy, Reuters reports.
But many Western observers remain skeptical of the Kremlin's intentions. Russia-West relations have plunged to their lowest point since the cold war over Moscow's annexation of Crimea in early 2014 and support for pro-Russia separatists in eastern Ukraine.
"Nobody wants to see us step backwards," US Secretary of State John Kerry said Tuesday. "Nobody should hear that kind of announcement from the leader of a powerful country and not be concerned about what the implications are."
Putin announced the additional missiles – which are capable of piercing any missile defenses – at the opening Tuesday of an arms show near Moscow. His announcement came days after reports emerged about a US plan to store heavy military equipment in neighboring eastern European nations, a move that Russia warned could start a series of tit-for-tat actions. As The Associated Press reports:
The three Baltic members of the alliance, Estonia, Latvia and Lithuania, have asked NATO to permanently deploy ground troops to their nations as a deterrent against an increasingly assertive Russia. And Polish Defense Minister Tomasz Siemoniak says he and U.S. Defense Secretary Ash Carter have held talks about placing U.S. heavy army equipment in Poland.

The NATO chief said he expected Carter to brief other alliance members on the proposal to stockpile tanks and other weapons and supplies in Eastern Europe during a NATO defense ministers meeting next week.
Putin said that more robust military spending will ensure that a majority of Russian weaponry will be top quality by 2020, calling it a "large-scale armament and defense industry modernization program." But with the economy sliding toward recession amid low oil prices and sanctions, many wonder how Russia will actually be able to afford the military equipment. The New York Times writes:
Mr. Putin has said he will maintain both his $400 billion, decade-long military modernization campaign and the social safety net that he promised when he started his third term as president in 2012. At times, he has said the pace might slow, but he has never publicly entertained the idea of cutting back …

[Alexander M. Golts, an independent Russian military analyst], noted that although senior Russian officials continued to promise modern weapons, they quietly fiddled with the numbers to be delivered. He and other analysts suggested that maintaining the image of a robust military being resupplied on schedule was a political necessity, speaking to the large constituency that supports Mr. Putin because he has promised to restore Russia to its great power status."
For comparison, the US spent $581 billion on defense in 2014, accounting for more than one-third of military spending worldwide.
On Tuesday, NATO Secretary-General Jens Stoltenberg said that Putin's announcement was "confirming the pattern and behavior of Russia over a period of time – we have seen Russia is investing more in defense in general and in its nuclear capability in particular."
"This nuclear saber-rattling of Russia is unjustified, it's destabilizing, and it's dangerous," Mr. Stoltenberg added.
* * *
Source: Sputnik News & Security Watch