Orthodox Rabbi Appointed to US "Heritage" Commission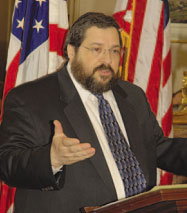 Commission was started to protect American cemeteries and monuments overseas; has now "evolved" to serve Jewish interests almost exclusively.
THE WASHINGTON director of an Orthodox Jewish umbrella group was named to the Commission to Protect America's Heritage Abroad.
Rabbi Abba Cohen (pictured) of Agudath Israel of America was tapped last week by President Barack Obama for the independent agency charged with identifying and reporting cemeteries, monuments and historic buildings in Eastern Europe and Central Europe that are associated with the heritage of U.S. citizens.
While the agency was established after World War I to care for the graves of U.S. troops in Europe, it evolved following World War II to include properties associated with Jews who left the ravages of Holocaust-era Europe for the United States.
Its 21 volunteer members, 14 of whom are appointed in consultation with Congress, serve for three years. Most of the members come from the Jewish community. Its chairwoman is Lesley Weiss, the deputy director of the National Coalition Supporting Eurasian Jewry.
EDITOR'S NOTE: Cohen supports EFRAT, a group whose mission is to prevent the abortion of Jewish children, of which he says "I bring you greetings from our council of Torah Sages and Rabbinic Leadership, who join me and join us all in honoring EFRAT, this extraordinary organization… This is what EFRAT is all about, rebuilding the Jewish nation, rebuilding the Jewish people."
* * *
Source: St. Louis Jewish Light