Herbert von Karajan: Unrepentant National Socialist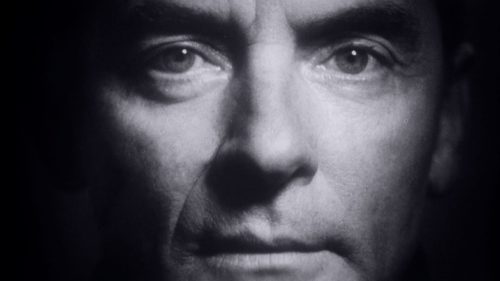 The great conductor is one of those few men of whom it is only necessary to mention a single name — Karajan — and all people of our culture will know of whom you speak.
by Mike Walsh
HERBERT VON KARAJAN's (pictured) enthusiasm for National Socialism never troubled him. He wouldn't ever discuss the matter other than declaring, "I would not change anything I have done."
Von Karajan's biographer Roger Vaughan writes: "Throughout the long drawn-out denazification process there is not the slightest sign of contriteness from Herbert von Karajan. One may question his ethics, but not his toughness, his strength of purpose, his self-assured single-mindedness. He told the authorities what he had done and he told them with his head held high and his voice in full timbre. He voiced no apologies, no regrets. When he was challenged he didn't defend himself, he attacked."
According to Kater, Osborne, and Meyer, his unsympathetic biographers, paraphrased here with additional notes by Malcolm P. Shiel: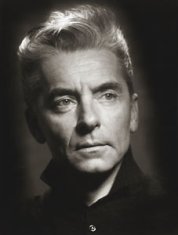 Herbert von Karajan was born on 5 April 1908 in Salzburg, the son of a successful physician. As a youth he studied music and conducting in Salzburg. In 1929 he took up the position of orchestra conductor in Ulm, and in 1934 was appointed as Kapellmeister at Aachen, where he remained until 1941. He joined the National Socialist party in 1933… In Berlin he made a name for himself as a conductor of politically-acceptable contemporary music, particularly the works of Carl Orff and Richard Strauss. After a 1941 performance of the popular Carmina Burana, the composer himself said admiringly, "the orchestra under Karajan sounds fantastic." …Eventually his name was included in Goebbels' list of musicians "blessed by God."
…After the war, the Soviets issued a prohibition on the conductor's public performances — his voluntary entrance into the National Socialist party several years before the war began was enough to condemn him. He was also forbidden by the occupying "Allies" in devastated Germany to conduct for two years. By 1947, though, all bans had been lifted, and he was free to perform and conduct at will. His first concerts in the United States in 1955 aroused picketing and protests from Jewish groups. The clearing of his name was in part due to his quarter-Jewish second wife, whose marginal Jewishness helped him after the war — and had been tolerated in the Reich.
His career continued on its astronomical trajectory toward fame and fortune. In 1955 von Karajan took over as music director of the Berlin Philharmonic; in addition, he led the Vienna State Opera and the Salzburg Festival, as well as working extensively in London and around the world. A classic Karajan anecdote has the conductor leaping into a taxi and, when asked his destination, replying: "No matter. I am in demand everywhere."
He divorced and remarried in 1958, wedding the talented painter and model Eliette Mouret, with whom he fathered two daughters in 1960 and 1964, and who continues to uphold his legacy through the Eliette and Herbert von Karajan Institute.
Karajan was a lifelong sportsman: He skied and sailed — and piloted his own airplanes. According to the New York Times, "Fascinated by technical innovations, he once contemplated being frozen for 15 years so that he could re-record the standard repertory in the latest video and audio technology. ….He was a 40-year student of yoga and Zen Buddhism. He believed in reincarnation, and once dreamed of being reborn as an eagle, soaring above his beloved Alps."
He remained the artistic director of the Berlin Philharmonic until he retired in 1989. Soon after retiring, von Karajan died in Salzburg, one of the wealthiest and most famous conductors in the world.
Occasionally one will note that Herbert von Karajan closes an orchestral performance by clasping his arms across his chest. Is it a signal to the faithful? It may be just a coincidence that one of the German Chancellor's habits was to close a speech with the same gesture. It is certainly a gesture that was and will be understood by National Socialists.
The last musical work performed on Berlin Radio, before it went off the air in 1945, was Anton Bruckner's 7th Symphony in E-Major. Forty-four years later, in a special tribute to the Führer on the 100th anniversary of his birth, world-renowned conductor Herbert von Karajan was to lead the Vienna Philharmonic in his final performance with this monumental work. This concert took place just three months before his death.
* * *
Source: excerpted from Heroes of the Reich by Mike Walsh, Amazon Books with additional notes by National Vanguard staff