Germany: Christian Churches Toll Bells to Demand More Non-White Migrants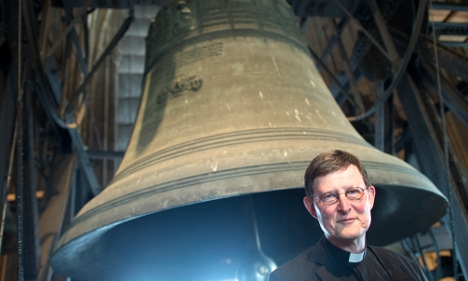 Imported Middle Eastern religion is not only failing to properly lead and protect Germans, but is openly working for their genocide.
ON FRIDAY at 7.30 pm, 230 churches in North Rhine-Westphalia will toll their bells thousands of times in a mass action to remember the 23,000 refugees who have drowned in the Mediterranean over the past 15 years. (ILLUSTRATION: Cardinal Rainer Woelki at Cologne Cathedral.)
The archbishop of Cologne, Cardinal Rainer Woelki who has organised the action, said in a statement that "the death bells demand a change in policy that provides a way for refugees to enter Europe legally."
Churches in the archibshop's diocese, which includes major German cities such as Cologne, Bonn and Düsseldorf will take part.
Each church will ring its bells 100 times, reports the Rheinische Post, meaning a total of 23,000 peals will ring out across the western German region.
A spokesperson for the diocese told The Local "the goal is that the 23,000 bell peals will act as a reminder of the 23,000 people who have died in the Mediterranean since the year 2000.
"It will be a call for change in our refugee policies. The Cardinal wants to send a wake-up call to the government."
Explaining the form of the demonstration, the spokesperson said "in the Catholic Church we have a tradition of ringing church bells when one of our community has died — these are the 'death bells.'"
The action could last for up to ten minutes and should be easily audible in most of Cologne, said the spokesperson.
In a sign of the significance of the occasion, the largest bell in Cologne's famous cathedral — the "Dicke Pitter" (Fat Peter) bell — will be struck, an event which normally only takes place during religious holidays, or to signal the death of a Pope or archbishop.
The action will be accompanied by a gathering at Cologne Cathedral where refugees will describe their experience crossing into Europe.
* * *
Source: The Local