A Deadline Approaches for Interplanetary Colonization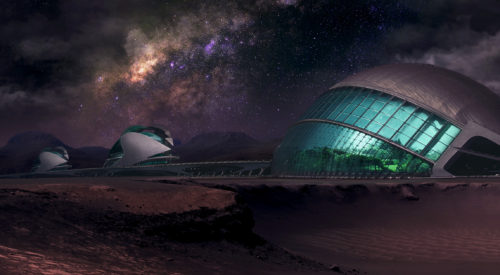 by David Sims
I HATE to throw a wet blanket on people's hopes for human colonization on other planets and in space, especially since this was always a hope of mine, too. I don't think that humans will ever colonize the rest of the solar system, much less reach for the stars. It's after halftime in the terrestrial resource depletion game, and humans haven't really even begun to play. We have not correctly applied our planet's store of energy and material assets, which we had already half used up by 2004.
Think of fossil fuels as the key that unlocks the sky. If we apply them soon enough, we can send our seed to establish itself elsewhere in the solar system, and this seed could develop and send out more colonies wherever advantage was found in doing so. But warmongers, capitalists, communists, and liberal sentimentalists have squandered more than half of the world's fossil fuels in ways that don't lead to space colonization and thus to gaining access to lunar helium 3 or to Titan's hydrocarbons, and now the window of opportunity for ever doing so is closing fast.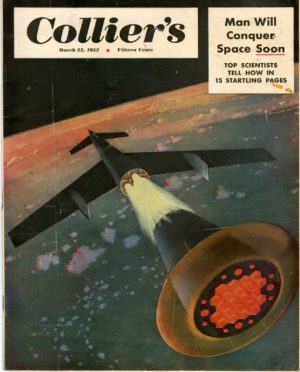 Space colonization simply hasn't been done. The International Space Station is not a colony; it's a research station so close to Earth that it keeps having to be boosted higher because air friction continually decays its orbit. In my opinion space colonization won't be done. Capitalists simply don't like to invest in projects that won't pay off during their lifetimes, and democratic governments won't stay focused on the task for the necessary amount of time because of politics. Even when energy was cheap, in the past, lots of people criticized space exploration and space science projects as being unimportant. In the future, however, energy budgets will be tight, and economic considerations will join ideology as a political force against space colonization. Where they once merely groaned about NASA's funding, later they will howl and scream and riot if spaceflight is allocated any money at all.
Man chose the wrong priorities, and the Life of Earth will pay for our poor judgment with a much shorter run through this universe than it might otherwise have had. Really, space colonization is something that ought to be done as if it were a war objective: done immediately, unrelentingly, and on an emergency basis, and done right, done regardless of how many setbacks or casualties occur. And it should have been supported by everyone as if it were the one, true religion, by which alone they could be either saved or damned for eternity.
But, instead of that, you see a lot of posturing and politicking and profit-taking. People in general don't understand that what is at stake is the survival of Earth's life, the only life that we know the universe has. Worse, if they did know, most of them wouldn't care. The kind of leadership that might have carried space colonization through to self-sufficiency was destroyed in 1945, and the like of it has not been seen since.¹
Once fossil fuels are gone, the door to the heavens will be permanently closed. By the time another geological load of fossil fuels is made, humans will be gone and Earth will be either uninhabitable or nearly so.² Nature passed the ball to us hominids, and we have fumbled big time. Five billion years of progress in biological evolution will, most likely, go down the drain as a result of human folly.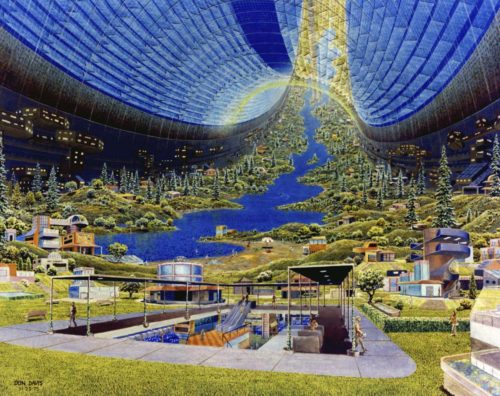 I am not optimistic about the chance for space colonization, but I hope that I am wrong. I want my race, or whatever my race may become in the distant future, to outlive Earth, to outlive the Solar System, to survive beyond the last star to shine in this universe.³ And if my race, or its evolutionary descendant, can't find a way to live for ever, then I want it at least to endure as long as it might.
I want the last lamp that can ever burn to be held in a hand that descends from the Life of Earth. It's a long road to there from here, but I want terrestrial beings to march down every last step of it.⁴
Footnotes.
(1) If the angels of heaven (survival) and the devils of hell (extinction) were both gathered in front of mankind, about 90% of humans, trying to tell which was which, would get it wrong in confusion, because they'd been taught to use incorrect criteria for judging good and evil, and another eight or nine percent would get it wrong on purpose because they are evil and want the devils to win.
(2) The natural evolution of the sun is causing it to increase its luminosity by about 7% per billion years. Somewhere between 1 billion and 2 billion years from now, Earth will undergo a runaway greenhouse effect and become superhot like Venus. Man can probably trigger a greenhouse effect much sooner, but it will eventually happen no matter what we do or don't do. The oceans will begin to evaporate. Water vapor is a greenhouse gas, so the evaporation will increase the temperature and lead to still more evaporation, a vicious cycle that stops only when the partial pressure of water in the air prevents further evaporation. The temperature on the surface of the Earth at that point will be around 600 K, which means nothing at all will remain of the Life of Earth, except what had gone into space earlier.
(3) The stelliferous period of the universe will end in about 10¹⁴ years. The stars will mostly go out after the interstellar clouds of hydrogen have been depleted by previous generations of stars. Random collisions between brown dwarfs will produce new red dwarf stars, but only at a very slow rate. At universe age 10¹⁴ years, there will be one star thus formed where there is a galaxy of stars today. At universe age 10²⁰ years, there will be one star where there is a supercluster of galaxies today.
(4) A human who does not have an eye on eternity is not really moral. Morality has a Spenglerian⁵ dimension and a cosmic importance; it has to do with whether, for how long, and under what circumstances life will endure. What many people regard as morality is merely "playing nice" and "obeying the rules." One wonders where such atrocious confusion might have come from.
(5) Oswald Spengler was a German philosopher who identified a cyclical pattern in the rise and fall of civilizations, and identified phases within each part of the cycle. The decline of a civilization is inevitable — and can be put off only for so long. The only uncertainty is in how long it will be before anything worthwhile can rise to replace it. It is possible that the death of a decadent civilization should be hastened, so that it can be promptly replaced by a new and more vigorous one, or so that the intervening period of barbarism will be minimized.
* * *
Source: David Sims