US: Orthodox Jews and Secular Jews Compete to Buy Politicians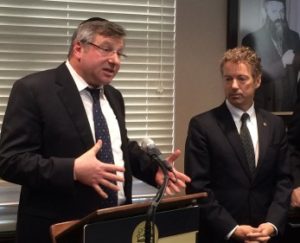 All politicians in the corrupt sham called "democracy" vie for Jewish favor, no matter what the Jewish flavor.
BOTH Democrat and Republican candidates know if they can appeal to Jewish donors then they have gained the jackpot. These donors tend to be wealthy and generous political contributors. (ILLUSTRATION: GOP Presidential candidate Rand Paul visits the heavily Orthodox section of Brooklyn in hopes of winning Jewish support and money for 2016.)
Though, in recent years Orthodox Jews have begun to jump into the political ring, with hopes their views will reflect in the candidates they choose to endorse.
As reported by the Forward, Republicans are interested in these Orthodox donors because they are likely to make significant donations, secure enough to pronounce their conservative social preferences and fueled by their anger at the Democratic administration's policy toward Israel.
Several presidential contenders such as Rand Paul, Ted Cruz and Jeb Bush have made initiatives to take interest in Orthodox issues. They know these donations could be crucial for their political careers. These Orthodox individuals are characteristically described as "very successful in business, very prosperous, with a yeshiva background and deeply involved in public life."
Take Richard "Kasriel" Roberts, who is now viewed as the biggest Orthodox name in Republican political giving, donating $750,000 to the pro-Romney super political action committee Restore Our Future and $1 million to Treasure Coast Jobs Coalition, another Republican Super PAC. His total political giving in the 2012 elections exceeded $2 million.
Roberts made his fortune as a pharmaceutical entrepreneur. In 2012, he sold his company for $800 million, and begun to divide his time between philanthropic activity in the local Orthodox community and campaign finance activism in Republican politics, according to the Forward.
"Obviously I don't come from the standard yeshivish background. I went to the yeshivas of Harvard and the University of Pennsylvania," Roberts joked in a video-promoting Lakewood. He called living in Lakewood a "wonderful privilege" that those who lived in an ultra-Orthodox environment all their life may not appreciate. "We certainly don't want them going out into the secular world and seeing how bad things are in so many other places," Roberts added.
Of course, the Orthodox community is also not overly concerned about separation between religion and state so it's no surprise they support vouchers and funding for private and insular schools.
The playing field has obviously changed in the last few years, from what the pressing issues are now and who the donations are coming from. The shift from modern to Orthodox Jews is one that has become evident and doesn't appear as if it's going to change for a while as Israel's security remains a major concern.
"Now, in 2015, you have more Orthodox individuals who are more affluent than in past years and more interested in being politically active," said Nathan Diament, executive director of the Orthodox Union Advocacy Center.
But today, said Jeff Ballabon, a prominent Orthodox Republican activist, "it's no longer only domestic concerns like school choice and Orthodox Jews… will be very involved in shaping the [2016] Republican race, vouchers, but also protecting Israel."
* * *