Sheriff Speaks Out About "Stand Down" Order in Baltimore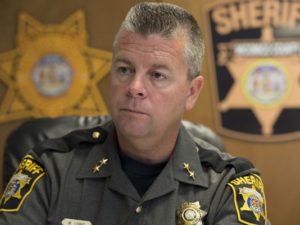 ON SATURDAY, peaceful protests in Baltimore gave way to violence and rioting as the mayor sought to "give space" to both the protesters and riotous criminals. (ILLUSTRATION: Wicomico County Sheriff Mike Lewis)
Things got much worse Monday, as roving bands of high school students and opportunistic thugs took to the streets, attacking police officers, looting businesses and torching cars and buildings.
Wicomico County Sheriff Mike Lewis reluctantly arrived in Baltimore on Monday with an armored vehicle and several of his deputies to provide assistance to the seemingly overwhelmed Baltimore Police Department.
"I hadn't planned to go to Baltimore at all. I watched the events unfold Saturday night like we all did, and was very concerned about what I saw, and the lack of response Saturday night," he said, during an interview with local radio station WJZ.
Assigned to guard the police headquarters, Sheriff Lewis and his men saw little action that night, but they heard about plenty, and were most distressed by what they were told by their colleagues in the Baltimore PD.
According to WJZ, Lewis said he was told by several city police officers that there were orders from on high to not "confront or accost" any of the rioters, something he said was simply unheard of.
"I was sick to my stomach like everybody else," he explained. "This was urban warfare, no question about it. They were coming in absolutely beaten down. The (city officers) got out of their vehicles, thanked us profusely for being there, apologized to us for having to be there.
"They said we could have handled this, we were very capable of handling this, but we were told to stand down, repeatedly told to stand down," he said.
Lewis admitted that he was never given a direct order to stand down, as he and his men had simply gone straight to their assigned post, but that many officers, including some high-ranking ones, relayed the order to him.
"(T)hese guys told me they were essentially neutered from the start. They were spayed from the start. They were told to stand down, you will not take any action, let them destroy property," said Lewis.
The law enforcement veteran with 31 years of experience continued, "I had never heard anything like this before in my life and these guys obviously aren't gonna speak out and the more I thought about this … I had to say a few things. I apologize if I've upset people, but I believe in saying it like it is."
Lewis went on, sharing some of what he heard through the Baltimore PD radio that he had with him, keeping tabs on the situation.
"'Stand down, stand down, stand down! Back up, back up, retreat, retreat!' I couldn't believe those words. Those are words I've never heard in my law enforcement vocabulary," he said.
He added that many officers have since told him they are more or less done being officers in the city and are absolutely heartbroken that they weren't allowed to effectively do their jobs and protect the good citizens and businesses of the city they love.
This is sad and downright criminal. The Mayor Stephanie Rawlings-Blake needs to be recalled immediately by the voters of the city.
Hopefully Sheriff Lewis doesn't suffer any punishment or repercussions for speaking out, as he has potentially gone up against powerful figures behind the scenes.
* * *
Source: Conservative Tribune