Indiana: "No Mexicans" Sign Draws Media Attention
Courage of property owner puts Washington regime — which opens our borders to invaders — to shame.
NOBLESVILLE, Ind. – A controversy is brewing in Noblesville over a sign that some are calling racist.
First Amendment or hate? That's the question surrounding the sign in a front yard, which states, "I love Mexican people but they do not belong in the U.S. No Mexicans on my property. C. J. Spence." The sign is advertising firewood for sale.
The sign is posted near 206th St. in Noblesville.
"I thought I need to send them a message," said Spence. "I love people and I enjoy people coming around."
But Spence's neighbors and drivers in the area don't think the sign is so welcoming. …
Driver Kari Bundy said that the sign "just promotes hate. It says it's okay to say things like this and be hateful to other people."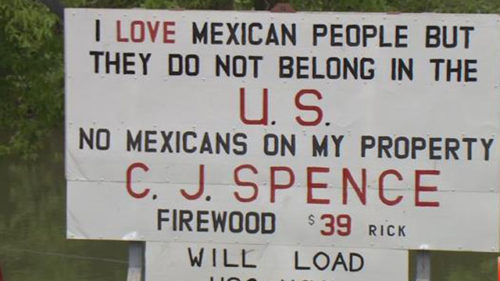 Devon Morgan and his friends wanted to see it for themselves.
"I just wanted to see if it was actually out here; if it hasn't been taken down yet," he said.
"Disappointed to see things said like that," said Lauren Beck.
"Always hear it happening in other towns, but just kind of surprised it could be here," said Zach Beck.
But Spence says the sign does have its fans.
"Lots of people say, 'C.J., I like your sign'," he said.
A passing cyclist yelled, "God bless America!"
Neighbors say Spence is kind and helps others. A pastor says we should show compassion.
But despite the opposition, Spence says the sign is staying put.
"It's not coming down. It's not coming down," he said.
He points to three things – a Mexican leaf cleaning crew dumped all their leaves on his property and twice, he says he's caught what he calls "Mexicans" fishing in his yard.
"They never ask. They never ask," he said.
But is he painting people with too broad a brush and hurting those who didn't hurt him?
"Well, I love Mexican people," he said.
But he doesn't want Mexico's economic problems here.
"It's not my fault," he said.
Indiana Law Professor Robert A. Katz is a First Amendment expert. He doesn't think the sign constitutes hate speech, but instead is just a citizen spouting off.
* * *
National Alliance spokesman Kevin Alfred Strom stated "How nice of Mr. Katz to decide for us that, just this once anyway, he and his tribe are going to let this man slide and they won't invoke the magic phrase — "hate speech" — that ends careers and ruins lives. Why, Mr. 'First Amendment' expert, would free speech of any kind be limited by your definition of 'hate'? In truth, Mr. Spence is right when at the end of the video interview he tells us that Mexican Mestizos have Mexico; we have our country." 
Mr. Strom continued: "In fact, Spence doesn't go far enough. Nations are biological entities, not geographic ones. Our society should be defined in racial terms — as all healthy nations have always been defined, and as the Founding Fathers themselves defined America. We need words like Spence's written into the very law of the land, or we will not survive as a people."
* * *
Source: based on an article at WTHR