Finns Develop Advanced Million-Watt Electric Supercar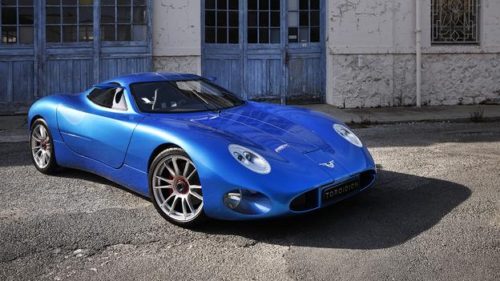 FINLAND is famous for its reindeer and global leadership in education, and at least one of those seems to be paying off in the automotive realm. (ILLUSTRATION: Toroidion 1MW Concept)
At April's 2015 Top Marques auto show in Monaco, Finnish company Toroidion unveiled the 1MW Concept, a completely Finland-designed-and-built supercar. The moniker references the car's 1 megawatt of output, the metric equivalent of 1,341 horsepower, which makes the Toroidion the first electric car to break a barrier that only a handful of gasoline-powered cars have surpassed. In an electric car this is more a matter of basic math than super tuning carburetors; each wheel has its own motor, with two 200-kilowatt motors in the front and two 300-kilowatt in the back. Given that electric motors produce 100% of their torque at zero rpm, we'd expect the Toroidion to be fast — perhaps ludicrously so — off of the line.
The eye-catching concept model is bulbously sleek and self-consciously light — behind the butterfly doors with handles of 3D-printed latticework, the interior is stylishly sparse — and the whole enterprise is light on details. That's okay for Top Marques, where the goal is to find buyers willing to finance the build of their own supercar, but auto enthusiasts of the shallow-pocketed kind are anxious for more details.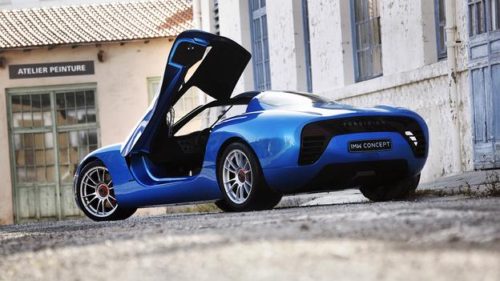 What we do know is that the design is courtesy of Passi Pennanen, an automotive stylist who has worked for Jaguar and Honda, and run an eponymous design studio since 2004. We also know that the 1MW is built on a new powertrain model, one that is designed to be scalable for different applications, implying both racing and street versions to come. Tantalisingly, the website notes that "The high-capacity battery of the Toroidion powertrain is as easily replaced in the pit-lane as it is in the home garage," making us wonder what hot-swappable wonder Pennanen has imagined.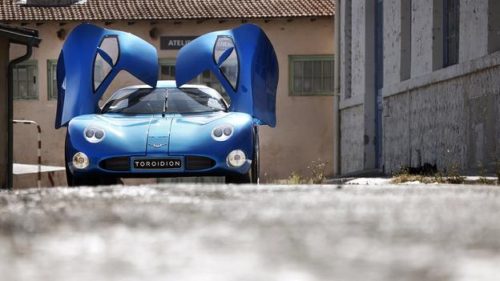 The name, "toroid ion" should give us some kind of hint, some idea of how a molecularly charged donut might make for a lighter high-performance battery or more efficient electric motor. But, alas, we didn't go to school in Finland.
Below is a video from RuptlyTV that features Pennanen and the Toroidion concept at the recent 2015 Top Marques Monaco:
Not long ago, 500 horsepower seemed an incredible output for a car. Then the Bugatti Veyron arrived and all of a sudden the "1,000-hp supercar" had entered the automotive vernacular. Lately, more and more cars have been coming out with "megawatt" ratings, which for those readers unaccustomed to measuring power in watts is equivalent to 1,341 hp.
Swedish supercar brand Koenigsegg already has two megawatt cars in its lineup, the One:1 and Regera, and now a company from another Nordic country, this time Finland (it must have something to do with the cold weather), has come out with a new megawatt car: the Toroidion.
Unlike the pair of Koenigseggs, the Toroidion isn't destined for production but is simply a proof of concept for an electric powertrain developed by an engineering firm also by the name of Toroidion. Founded in 2011 in the Finnish town of Raasepori, the company original's goal was to develop an electric powertrain that would be competitive in endurance racing, namely the 24 Hours of Le Mans.
However, because of the scalable nature of the technology, other applications are now possible. The key is Toroidion's rapid-swap, high-capacity battery technology, which is similar to what Tesla Motors [NSDQ:TSLA] has developed for its Model S and future vehicles. Drive comes from four electric motors, one of which sits at each wheel.
Unfortunately, Toroidion doesn't provide any further details on its technology but says more information will be released once all the testing is complete. Toroidion's founder, Pasi Pennanen, is a Finnish industrial designer with more than two decades of experience building concepts and production models. Among the companies he claims to have worked for in the past are Honda, Jaguar and Italian design house Zagato.
"There is no such thing as 'it cannot be done'," Pennanen said in a statement. "I believe in pushing the boundaries in product development and design."
* * *
Sources: BBC Autos & Motor Authority