Connecticut: Saying "White Lives Matter" Called "Racial Ugliness"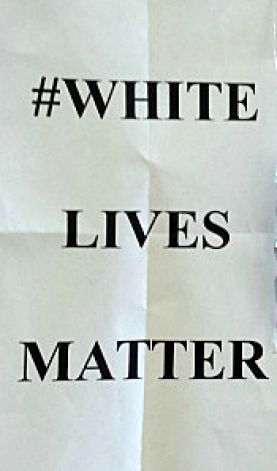 The insanity is so blatantly obvious now that many more Whites are seeing it for what it is.
FLYERS WITH the slogan — "#White Lives Matter" — an apparent racist response to the widely used social-media hashtag, #Black Lives Matter, have been tossed on local driveways and lawns in the Compo Road area, prompting local officials to denounce the message. (ILLUSTRATION: Flyers with the message, "#White Lives Matter," an apparent response to the #Black Lives Matter hashtag widely used on social media after the deaths of young black men confronted by police, have been tossed on local lawns over the last few days.)
Officials say they are troubled by the distribution of the flyers in town, which have unsettled many of those who found them on their doorsteps over the last week.
"I am deeply concerned and disappointed that statements like this have found their way to Westport homes," First Selectman Jim Marpe said in a statement Friday. "This kind of racial ugliness has no place anywhere, and certainly not in Westport."
The first selectman added, "I have always been proud to speak of Westport as an open and welcoming community, and I continue to believe that the vast majority of Westporters practice that belief through tolerance, inclusion and everyday civil behavior … This past year has reminded us that our nation still needs to deal with some serious racial issues, and now we know that Westport is not immune."
The local flyers apparently respond to the #Black Lives Matters hashtag used on social over the last year in the wake of the deaths of black men in confrontations with police in several high-profile incidents.
Marpe said he has asked TEAM Westport, a group that tries to foster greater diversity and tolerance locally, "to work with Interfaith Clergy, the Board of Education and the appropriate town agencies, to lead our community's response to these outrageous statements and, more importantly, the behaviors and beliefs that underpin them."
Harold Bailey, the TEAM Westport chairman, said Friday he's working on setting up meetings with the leaders of a number of organizations to get a "consolidated response" to the flyer distribution.
As of now, he said, "We're not sure why this is being done or who is doing it."
Bailey said that taken on face value, the flyers could be an answer to "Black Lives Matter," which in addition to being used widely on social media, has been chanted at demonstrations following the black men's deaths.
"Black Lives Matter, he said, is "really a statement of a reminder that" some people feel "they are marginalized by society."
Bailey said by turning the flyer's message "completely on its head," it could mean "you don't matter" or "we matter more," but added, "That's not what this town stands for."
He said TEAM Westport strives to incorporate diversity in all institutions in town. "We feel diversity is an attitude," he said.
Similar flyers were also recently distributed nearby in Milford.
Meanwhile, local police have not received a formal complaint about the flyers so they haven't begun an investigation into the matter, according to Capt. Samuel Arciola, police spokesman.
"We're aware of the situation," he said, adding that police will be on the lookout for anyone "arbitrarily" tossing flyers on lawns or driveways.
* * *
Source: Westport News