BlackLivesMatter Activists in Montgomery Slam the SPLC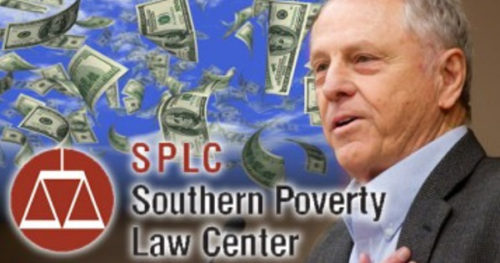 Even fellow multiculturalists condemn the SPLC as a fraud.
JUST A FEW weeks ago the national spokesman for the ADL slammed the SPLC as a fraud that invents fictional "active hate groups." (ILLUSTRATION: Morris Dees, the co-founder of the SPLC)
Over the years many left-wing publications and websites have denounced the SPLC. It has also been strongly denounced by the Montgomery Advertiser, the largest newspaper in Alabama. Now it seems that #BlackLivesMatter activists in Montgomery are strongly denouncing the group.
#BlackLivesMatter distributed fliers in Montgomery urging supporters to withdraw support for the SPLC. The flier focuses on the fact that Morris Dees originally made a name, and a small fortune, for himself getting an acquittal for a violent KKK leader who beat up a Freedom Rider. The flier points out that the SPLC has amassed $280 million, sucking away vast amounts of money that could otherwise go to fund activists.
#BlackLivesMatter Montgomery speaking out against #SPLC Support Social Justice, not profiteering millionaires pic.twitter.com/eVQTnRuKKM

— Tray Jackson (@BLM_Montgomery) May 11, 2015
Transcript
#BlackLivesMatter
Fight the profiteering Southern Poverty Law Center [SPLC]
SPLC claims to help poor black people, yet they are hoarding 280 million dollars in the bank. Most of what is spent goes to outrageous salaries and fundraising letters.
SPLC has received failing grades from major charity watchdog groups. It has been denounced for stealing money from the social justice movement by such publications as the Montgomery Advertiser, Harpers Magazine, Huffington Post, Daily Kos, and countless others.
For it's entire history, the SPLC has never had a person of color in the upper leadership. They only give unpaid honorary positions to people of color to create a false illusion that the leadership is diverse.
All of the SPLC top management are wealthy white people who were born into wealth and privilege. They live in the whitest parts of Montgomery County. They have nothing to do with the actual social justice movement.
SPLC founder and figurehead Morris Dees was previously a lawyer for one of the most notorious KKK leaders in America. Dees made a fortune successfully getting the Klan leader an acquittal for brutally beating a freedom rider. However, when Dees saw how much money was being spent to fight the Klan, he hatched the SPLC to suck up the money for himself.
The SPLC actively steals money from social justice causes to make themselves rich.
While Civil Rights Organization go broke, the SPLC is hoarding more than a quarter billion dollars. While social justice activists struggle for funds, a man once praised as a hero by the KKK gets richer and richer.
When people donated all this money to the SPLC, they thought it was going to be used to fight for social justice. They didn't know that hundreds of millions would be put in a retirement fund to benefit white millionaires.
Support the activists, support #BlackLivesMatter, Support social justice.
Do not support profiteering closest white supremacists who steal from our causes!
* * *
Source: Conservative Headlines