African 'Refugee' Was Only Here Nine Days Before Raping a Woman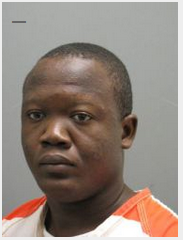 LEESBURG, VA. – A West African man who attempted to rape a woman just nine days after arriving in the United States has been sentenced to ten years in prison.
Tchalim Koboya Lidawo (pictured) pleaded no contest to two counts of attempted rape and one count of abduction with force in connection to an incident that occurred on December 4th, 2014, the Commonwealth's Attorney's Office said.
The incident occurred at an Ashburn apartment complex, according to officials. The victim told law enforcement that she was taking out her trash when Lidawo approached her near the dumpster. He grabbed the victim and dragged her into some nearby woods, officials said.
A struggle ensued, the victim fell down, and Lidawo climbed on top of her, according to the attorney's office said.
A passerby heard the victim's screams and approached, causing Lidawo to get up and run into the woods. The victim provided police with a description of Lidawo, leadnig to his arrest.
Lidawo was sentenced to ten years with additional five years of suspended time according to officials. He must also pay a $5,000 fine.
As a native of Togo, Lidawo may be removed from the United States when he is released.
* * *
Source: Illegal Alien Crime Report